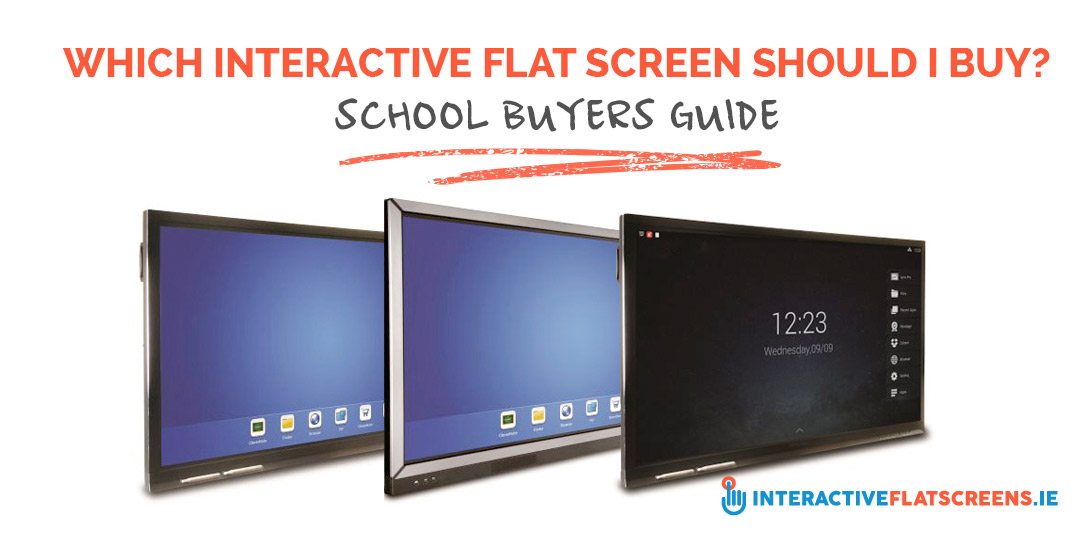 Which Interactive Flat Screen Should I Buy? – School Buyers Guide
Mar 19, 2016
By Interactive Flat Screens
Which Interactive Flat Screen Should I Buy?
Buying an interactive flat screen for you or your school is a big decision to make and we want to help you make an informed decision. Having a little bit of insight into what to look out for when trying to decide which flat screen to buy can make a big difference, read on to find out what you should know about buying flat screens.
Guide to Buying Interactive Flat Screens
There are many different interactive flatscreen options on the market. We will cover all the following points individually in blogs over the coming months but for now here are some 'what to look for' guidelines when deciding how to spend your hard earned money.

Proven track record of the Brand
Whatever brand of interactive flatscreen you decide to purchase, make sure that the brand in question has a proven track record in supplying schools and it is a product designed to be robust enough to handle the tough rigors of the classroom. Whilst new to market products will always have some appeal whether 'super low price' or 'lifetime warranty' they are simply no good to anyone if they are not fit for purpose.
Range of Sizes
As obvious as it sounds. Most suppliers will offer a range of interactive flat screen sizes to suit different rooms and different applications. Make sure you choose the size that fits your classroom and needs and that the vendor has all the sizes you need.
5 year Onsite Warranty
Some interactive flat screens come with a 3 year warranty. Most are now offering 5 year. Be wary of 5 year warranties which are made up of 3 years onsite and a further 2 year Return to base. You do not want to be in year 4 and finding yourself responsible for taking a 100kg flatscreen off the wall and shipping it to a company in the UK to be fixed. Oh, and then collecting it when it's fixed…….  enough said!
Proven Track Record of the Supplier
When you are considering investing in AV & ICT equipment for your school it is worth considering the proven track record of your supplier within the Audio Visual industry and of course the level of after sales service you will receive. (PLUG! – With over 45 years' experience, you can rely on Toomey AV to ensure 100% customer satisfaction. Call us on 01 4660515 for a superior level of service!)
Installation & Training
There is a difference between 'banging it up on the wall' and a 'professional AV Installation'. A good install should be neat and tidy. Cabled for computer, (VGA & HDMI), audio, USB, mains & a professional termination plate supplied. You should not notice the installation cabling or termination when you enter the room. It is worth checking this out in advance of ordering as the promise of FREE installation may be the one thing you regret in time. Is training an option? Most companies charge for training. This is fair. There is a difference between a quick 5 minute demo after installation and scheduled and professional flat screen training. Find out exactly what you will get.
FULL HD Resolution
Your interactive flatscreen should be at least full HD 1920 x 1080 resolution. Anything less, don't go there.
Multi Touch
Does the device support multi touch? A minimum of 6 touches is recommended.
On-board Android Platform
By far the best single feature I have seen on an interactive flat screen is an on-board android platform. This allows you to operate the system without connecting it to your laptop. You can whiteboard, annotate, browse the web, play a video, plug in a USB and run word, PowerPoint as well as open PDFs, videos etc. This really is a revolutionary development.
Demo or Trial
Can you get an onsite demonstration or even a  trial of an interactive flatscreen? Always good to try it out before committing.
Case Study / Testimonials  / Existing Customers
Ask to speak to some existing customers who have selected the product you are considering and see how they are getting on. Is there a case study or some testimonials available? Speaking to existing users will give you peace of mind or answer practical questions you want to ask.
Interactive Flat Screens Buying Advice
"The bitterness of poor quality remains long after the sweetness of low price is forgotten."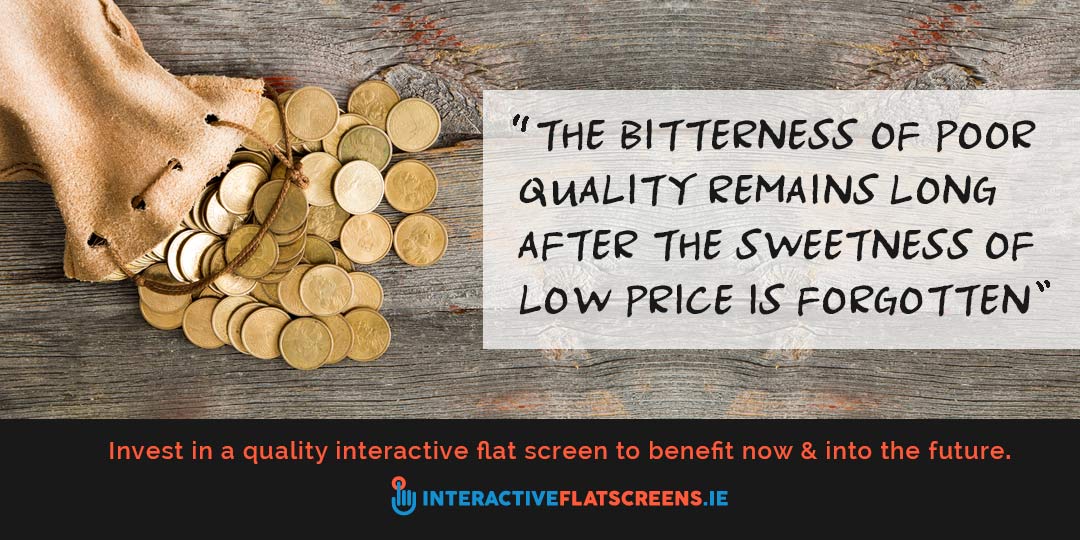 This old saying holds particularly true when it comes to interactive flat screens. Projection technology has advanced a lot over the years and making a sound investment in an interactive flat screen now will allow you to reap the benefits now and well into the future.
Interactive Flat Screens Available
Do you need any assistance with anything to do with interactive flat screen Displays?  If so call us on +353 01 4660515, email me directly at ivan@audiovisual.ie or contact us online.
Why Select Clevertouch?
CLEVERTOUCH are Interactive Touchscreen Displays for Education. Clevertouch Interactive Touchscreens are changing the way we educate our pupils a durable alternative to interactive Whiteboards and Projector solutions.

CLEVERTOUCH offers innovative features such as (optional) built in PCs and a built in App store that is focused on education.

CLEVERTOUCH offers a FIVE YEAR WARRANTY on its screens.

CLEVERTOUCH comes with a variety of education Softwares (Cleverlynx, Displaynote, Snowflake, Clevermaths and Clevernote). All Sofwares are easy to use and are child and teacher friendly!

CLEVERTOUCH is very competitive in price.