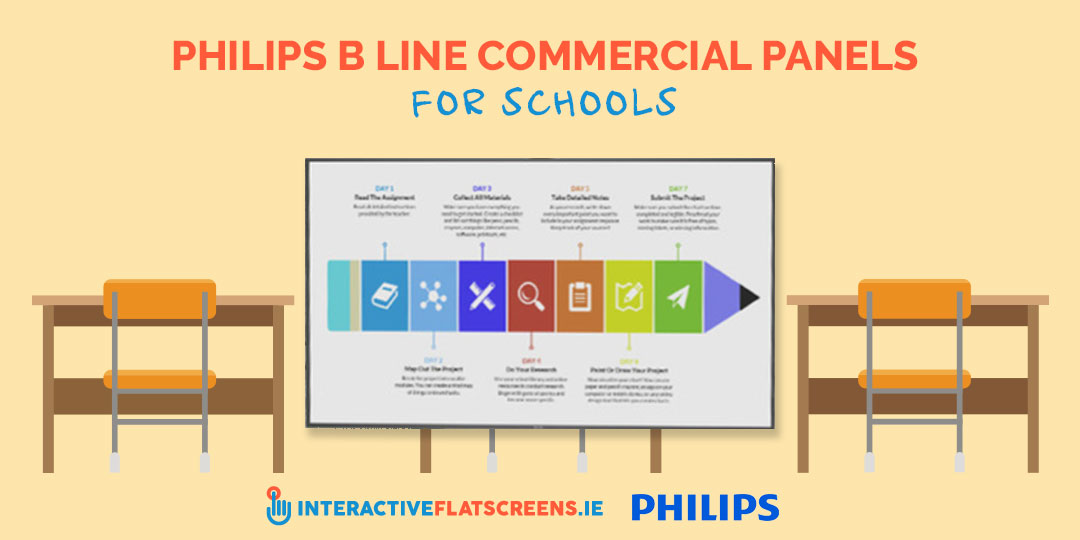 Philips B Line Commercial Panels for Schools
Jun 28, 2022
By Interactive Flat Screens
At IFS we pride ourselves on providing the best solution for each customers needs. Not everyone needs interactive flat screens in their schools. For those schools we offer the Philips B Line screen. This commercial screen offers durability with a 3 year warranty for up to 16 hours use per day. This Philips B Line Commercial Panel is as robust as they get. Offering peace of mind for schools as these screens have a longer life than domestic screens.
Philips B Line Commercial Panels for Schools
A commercial grade screen is designed for commercial spaces rather than domestic settings. Meaning these screens can withstand much more wear and tear. The Philips B Line screen offers a toughened display bezel for this purpose. With a sleek black design it showcases a professional look which blends in nicely to it's surroundings. B-line screens are available in 43", 50". 55", 65", 70" & 75" diagonal sizes.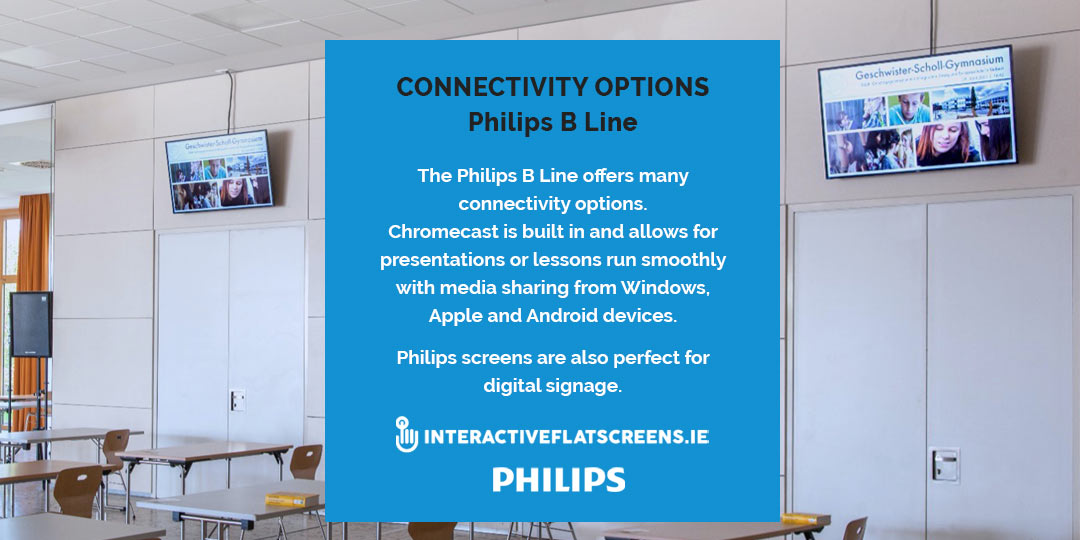 Connectivity Options – Philips B Line
The Philips B Line offers many connectivity options. Chromecast is built in and allows for presentations or lessons run smoothly with media sharing from Windows, Apple and Android devices. Philips screens are also perfect for digital signage. Your school can showcase their motto and logo or spread the schools ethics and ethos on every screen. Customisable for events or open days for potential new students. Dynamic content has often been seen to provide more engagement. Our DSA cloud signage system is an ideal partner for the Philips B Line commercial screens as it offers a long term environmentally friendly option for your school.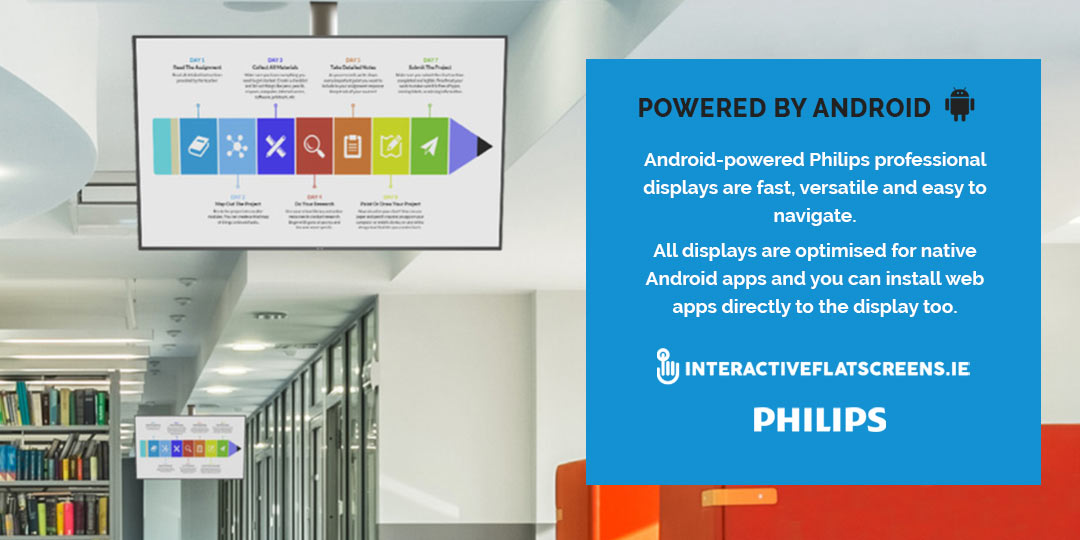 Powered by Android
Android-powered Philips professional displays are fast, versatile and easy to navigate. All displays are optimised for native Android apps and you can install web apps directly to the display too. Automatic updates ensure apps stay up to date.
HDMI Hotplug detection
When wireless connectivity is not an option, HDMI hotplug detection recognises direct cabled connections from presentation sources and automatically handles source changes and on/off switching.
Google Play Store
Full access to the entire Google Play Store makes it easy to add apps, games, music, movies, and more to your Philips professional display. New business tools and extra entertainment options are added to the catalogue daily, ensuring that you always have access to the latest global trends.
BYOD Friendly
Harnessing the power of Android P, Crestron-connected and with Chromecast built-in, the B-Line allows content to be wirelessly shared to one or more displays from any BYOD device – from a laptop to a tablet or smartphone. Better still, no new apps or additional hardware are required, ensuring hassle free sharing for users and a cleaner, wire-free installation, removing the risk of potential theft too.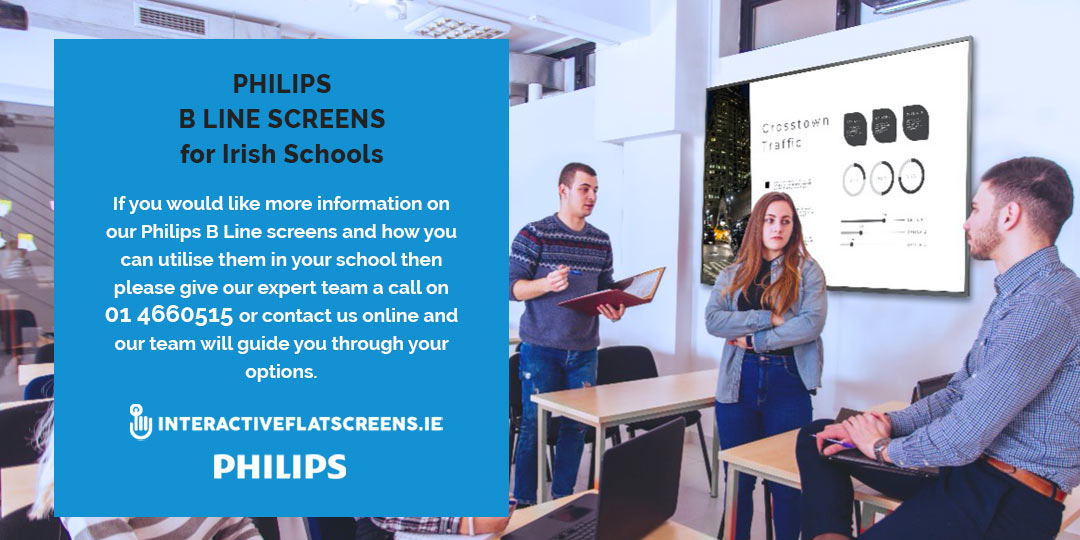 Philips B Line Screens for Irish Schools
If you would like more information on our Philips B Line screens and how you can utilise them in your school then please give our expert team a call on 01 4660515 or contact us online and our team will guide you through your options.
Why Select Clevertouch?
CLEVERTOUCH are Interactive Touchscreen Displays for Education. Clevertouch Interactive Touchscreens are changing the way we educate our pupils a durable alternative to interactive Whiteboards and Projector solutions.

CLEVERTOUCH offers innovative features such as (optional) built in PCs and a built in App store that is focused on education.

CLEVERTOUCH offers a FIVE YEAR WARRANTY on its screens.

CLEVERTOUCH comes with a variety of education Softwares (Cleverlynx, Displaynote, Snowflake, Clevermaths and Clevernote). All Sofwares are easy to use and are child and teacher friendly!

CLEVERTOUCH is very competitive in price.