Our Range of Interactive Flatscreens (IFS)
We offer a complete range of Interactive Flatscreen panels for both Education and Commercial clients. Our Clevertouch & Promethean range offer the best ICT solutions available in the market for the Irish classroom. The Clevertouch Pro range, brings the modern workplace to life. Our Interactive panels range from 55" to 84" and from Full HD to 4K resolution. Wireless connectivity, instant annotation, onboard android platform and extensive onsite warranties make Interactive Flatscreens the right choice for your environment whether classroom, meeting room or boardroom.
We have a comprehensive range of ancillary products to enhance every aspect of your touchscreen experience. Est. 1968, Toomey Audio Visual celebrates 50 years supplying Audio Visual technology to Irish schools and companies. We have been at the forefront of Interactive touchscreen deployment in Ireland over the past 20 years. Our specialist knowledge and superior after sales support makes us the number one choice for Touchscreen panels in Ireland today.
Clevertouch for Education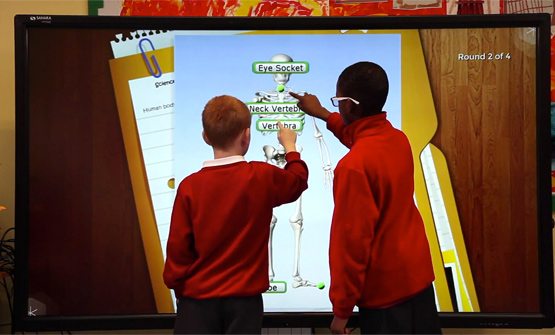 Clevertouch brings educational technology to students without letting technology get in the way.
In the classroom Clevertouch leads the way, with a dedicated educational App store, Clevertouch makes screens useful straight out-of-the-box.
The brand new LUX user interface makes the Clevertouch a beautiful, intuitive experience through an expertly designed touch interface familiar to any owner of a modern smartphone or tablet.
Clevertouch for Business
Powerfully present your ideas and effortlessly collaborate with colleagues. Focus your team with Clevertouch and make meetings more meaningful.
Business has never moved faster. Friction-free collaboration tools let you seize opportunities at the speed of thought and share ideas effectively.
Integrated Apps & Bundled Software
The Clevertouch award winning business software suite includes LynxPro Meeting, Montage Lite and DisplayNote. This suite of business software and integrated apps offers you flexible ways to interact with your team, whether they are remote workers or accompanying you in the meeting room. Laptop, tablet and even smartphone users can share their screens with the Clevertouch making it ideal for project management, review or any kind of collaborative decision making.
The Pro Series is a highly versatile interactive touchscreen that can be used in a wide variety of professional settings including reception areas, hospitals, universities, meeting rooms and collaborative spaces.