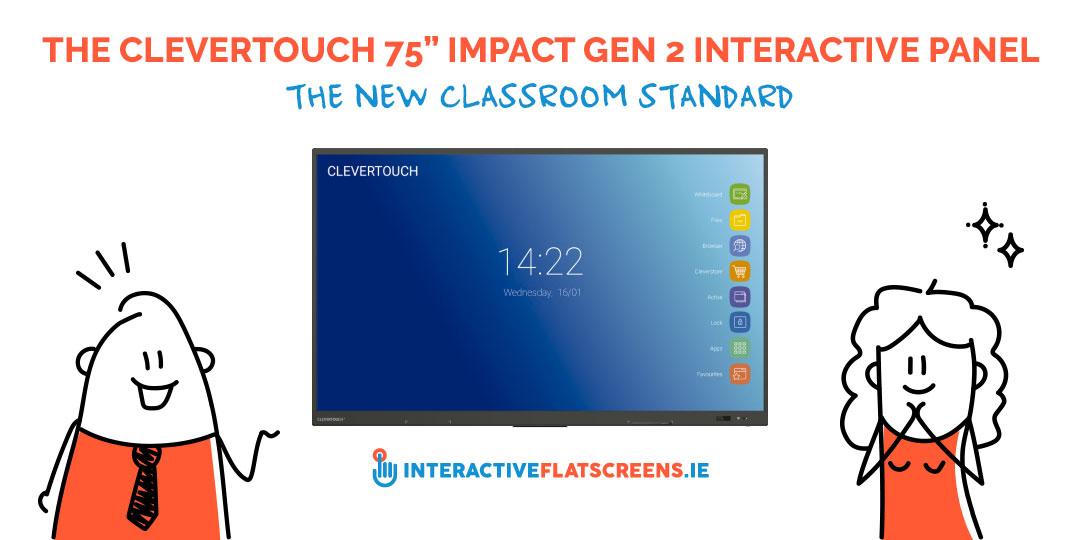 The Clevertouch 75" Impact Gen 2 Interactive Panel – The New Classroom Standard
Feb 21, 2022
By Interactive Flat Screens
We at IFS.ie have proudly showcased some of the best interactive flatscreens the industry has had to offer. We have worked with this technology longer than we can remember. It's not often we are left speechless but with the new Clevertough 75" Impact Gen 2 Interactive Panel it's done just that. Designed by teachers, for teachers it is an intuitively fluid and collaborative experience to behold. With a 4K screen and loaded with new and timeless features to make your lessons memorable for all.
Impact 2 – The Ideal Interactive Flatscreen for Schools
The Impact 2 is the ideal all around interactive flatscreen for schools eager to step into the future. Connectivity, as always, is top notch on this model with a variety of devices able to connect as well as the option to cast from PC, laptop, Mac, Chromebook, android and iPad tablets and mobile phones. With high precision technology, LYNX, Cleverstore and Snowflake software the Impact gives so many options it's hard not to get excited at how easy and time saving this can be for users. Gliding between menus and apps is effortless and intuitive. Your Cloud accounts can be accessed very easily too. We can honestly say we have put this Impact Gen 2 through its paces and it has come out on top of all other models in every regard.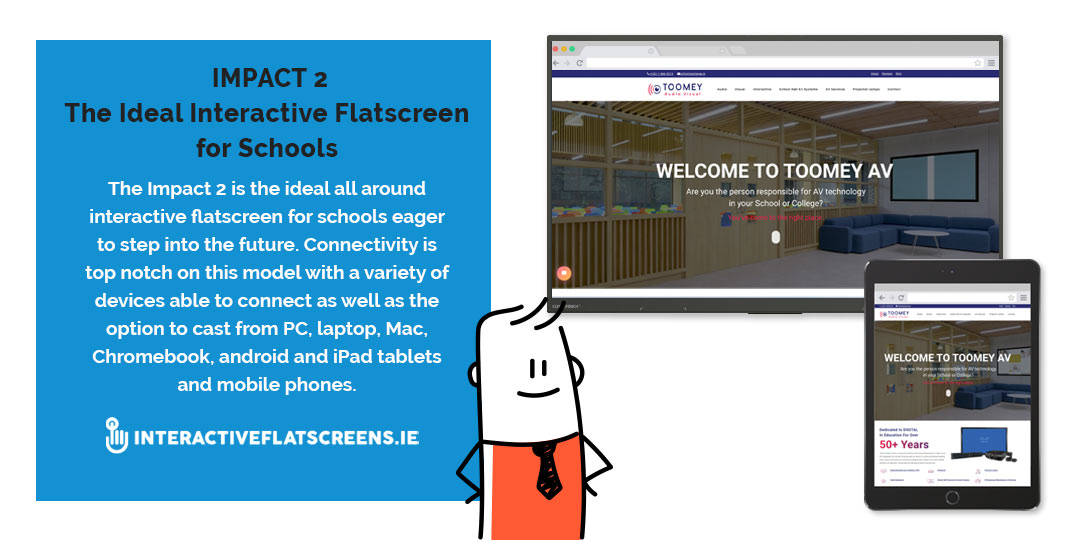 Impact Generation 2 Panel – New Features
The Impact Generation 2 Panel has the following great features as standard:
Built in Array Microphone – Great Voice Pick up for Audio & Video calls
3GB RAM / 32GB ROM – Doubled in size from Gen 1
Latest Generation USB-C – The latest connectivity
Cleverstore – Access hundreds of free teaching apps to make lessons more engaging.
LUX 8.0 – Easy to use interface. Simple, quick, intuitive apps and gestures designed to make everyday tasks seamless.
Infinity Whiteboarding – Never run out of space with our infinite canvas. With numeracy tools, handwriting-to-text recognition, and the ability to insert images and shapes.
Quick Launch Menu – for instant teaching tools
Remote Management – View, control, update and troubleshoot remotely. Remote Management gives your IT department the ability to work on your Clevertouch screen without needing to visit your classroom.
Cloud Accounts – Sync with your Cloud accounts so that you can work anywhere at any time.
Audio – 2 x 15W speakers for crystal clear sound quality from anywhere in the room
Connectivity– Huge connectivity including one of the latest USB-C ports. Allows single cable connection for audio, video, and touch.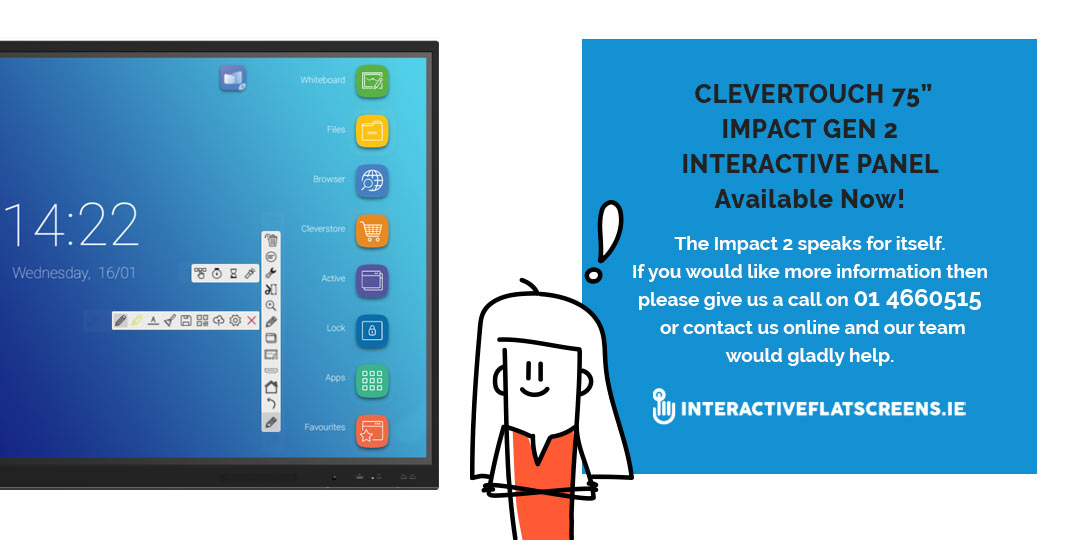 Clevertouch 75" Impact Gen 2 Interactive Panel – Available Now
The Impact 2 speaks for itself. If you would like more information then please give us a call on 01 4660515 or contact us online and our team would gladly help.
Why Select Clevertouch?
CLEVERTOUCH are Interactive Touchscreen Displays for Education. Clevertouch Interactive Touchscreens are changing the way we educate our pupils a durable alternative to interactive Whiteboards and Projector solutions.

CLEVERTOUCH offers innovative features such as (optional) built in PCs and a built in App store that is focused on education.

CLEVERTOUCH offers a FIVE YEAR WARRANTY on its screens.

CLEVERTOUCH comes with a variety of education Softwares (Cleverlynx, Displaynote, Snowflake, Clevermaths and Clevernote). All Sofwares are easy to use and are child and teacher friendly!

CLEVERTOUCH is very competitive in price.