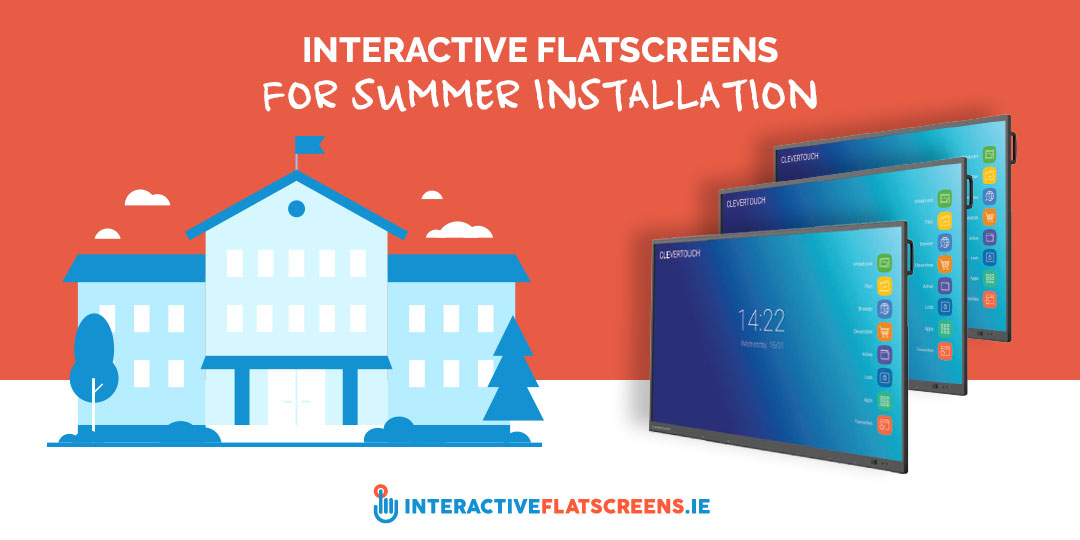 Interactive Flatscreens for Summer Installation
Jun 07, 2022
By Interactive Flat Screens
With summer fast approaching now is the best time to get your school upgraded with the latest and best tech. No matter the upgrade you have in mind, classroom or entire school, we can design a plan for your projects budget. With students and teachers out for the summer we can plan the installation of interactive flatscreens to be a seamless transition so the new school year starts off with renewed enthusiasm from teachers and students.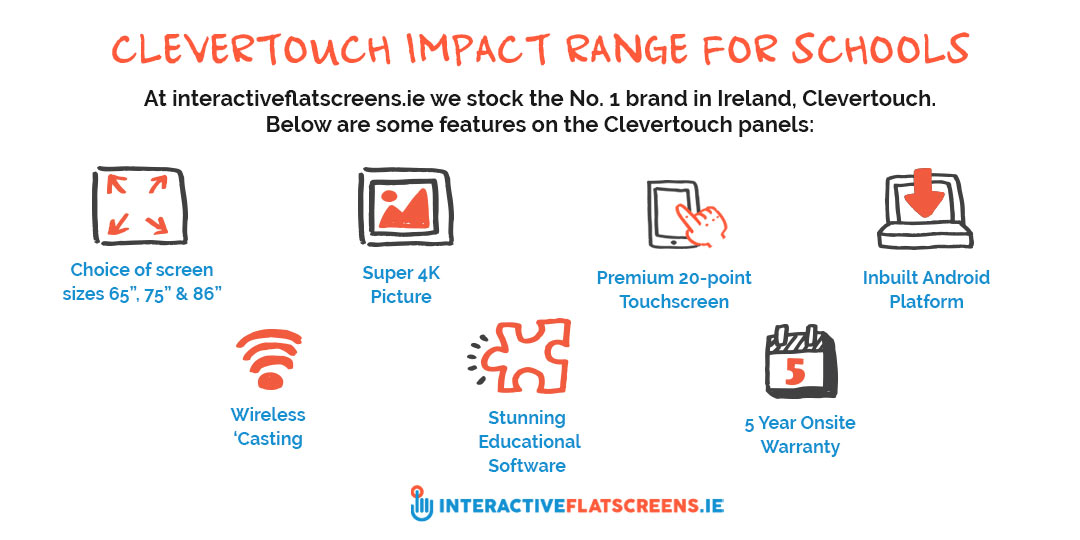 Clevertouch Impact Range for Schools
At interactiveflatscreens.ie we stock the No. 1 brand in Ireland, Clevertouch. Our range includes the Clevertouch Impact and M series of panels. Below are some features on the Clevertouch panels:
Choice of screen sizes 65", 75" (Most popular) & 86" (Supersized)
Super 4K Picture Resolution
Premium High Precision 20-point Touchscreen
Inbuilt Android Platform offering (Browser, whiteboard, Cloud Storage, Cleverstore,)
Wireless Casting
Stunning Premium Educational Software – Lynx & Snowflake
5 Year Onsite Warranty
Award Winning Interactive Flatscreen Features
Being the No.1, award winning brand on the market the Clevertouch screens offer some unrivalled technological features you won't find on any other interactive flatscreens.
Infinity Whiteboarding
The infinity canvas allows you infinite space to work on. Tools such as handwriting-to-text, numeracy tools, adding images and shapes allow for an all encompassing experience. All of these can be printed, saved or shared to students devices too.
High Precision Technology
With the Clevertouch patented Super Glide Touch technology writing as smooth as if you were using a whiteboard – and zero lag. The user can also palm-erase, fingertouch and stylus writing as the screen detects the touch. No need for settings changes.
LUX 8.0 Android
The LUX 8.0 software has an easy to use interface. The apps are intuitive. Everything is a touch away and simple to use. The processing power also allows for a speedy response.
Cleverstore
There are hundreds of handy apps just a touch away in the Cleverstore. You can easily navigate the store to find teaching apps that suit your classes needs.
Remote Management (Impact Series)
View, control, update and troubleshoot remotely. No need for your IT team to disturb classes as this feature allows them to update and maintain your interactive flat screens form their office.
Connectivity
Huge connectivity including one of the latest USB-C ports. Allows single cable connection for audio, video, and touch. Students can also connect their devices to the Clevertouch screens.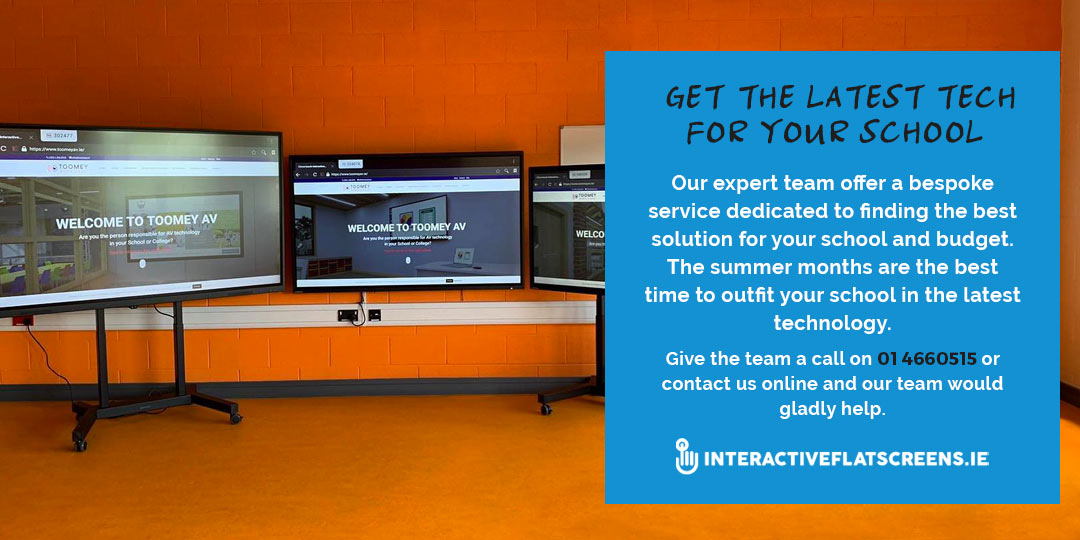 Get The Latest Tech For Your School
Our expert team offer a bespoke service dedicated to finding the best solution for your school and budget. The summer months are the best time to outfit your school in the latest technology. But we also offer a service that can alter your current setup. If you're happy with your technology but unhappy with its placement or want to maximise its impact we can offer you solutions. So please, give the team a call on 01 4660515 or contact us online and our team would gladly help.
Why Select Clevertouch?
CLEVERTOUCH are Interactive Touchscreen Displays for Education. Clevertouch Interactive Touchscreens are changing the way we educate our pupils a durable alternative to interactive Whiteboards and Projector solutions.

CLEVERTOUCH offers innovative features such as (optional) built in PCs and a built in App store that is focused on education.

CLEVERTOUCH offers a FIVE YEAR WARRANTY on its screens.

CLEVERTOUCH comes with a variety of education Softwares (Cleverlynx, Displaynote, Snowflake, Clevermaths and Clevernote). All Sofwares are easy to use and are child and teacher friendly!

CLEVERTOUCH is very competitive in price.