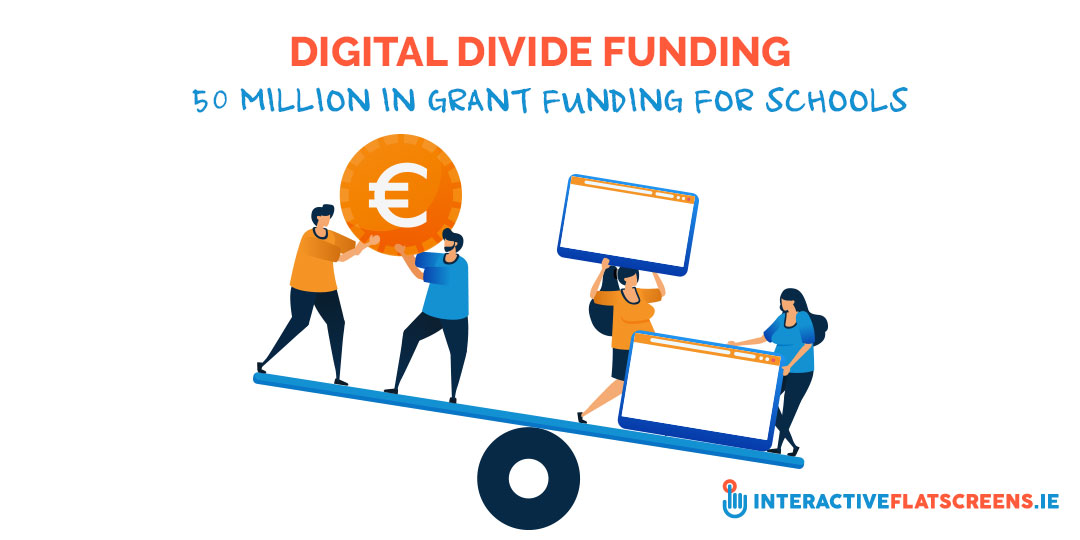 Digital Divide Funding – €50 Million in Grant Funding for Schools
Dec 15, 2021
By Interactive Flat Screens
A lot has been discussed and argued in recent years regarding the European Union. Something that isn't talked enough about are the programs run for funding specific areas that are lacking in certain EU countries. A gap has built up in Ireland in regard to digital learning. This gap was highlighted further during the pandemic. When students needed to learn from home the digital infrastructure was not on a level playing field for all students across Ireland. But, Ireland have received funding from the National Recovery and Resilience Plan (NRRP) which is an EU based initiative. €50m has been allocated for schools to bridge the digital gap.
Reducing The Digital Divide – Funding for Schools
Minister of Education Norma Foley TD had this to say regarding the gap in digital infrastructure "this digital divide will also impact their capacity to engage fully with digital technology and development of digital skills. As we move beyond this phase, we need to acknowledge the great effort and progress made. The enhanced investment under the NRRP will advance greatly the efforts to ensure that technology and infrastructure is in place to support teaching and learning in the classroom across all schools and ensure inclusion of all learners."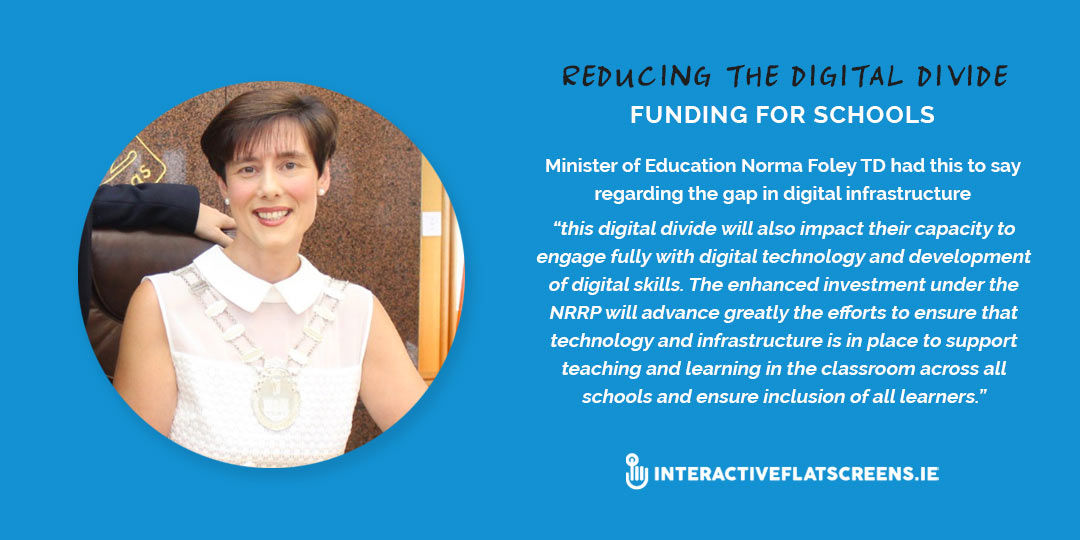 Importance of Early Digital Literacy in Students
Our range of interactive flat screens are the best way to bridge the digital gap and have the necessary infrastructure for disadvantaged students. We have previously mentioned and linked to research that shows the importance of early digital literacy in students as it gives them the necessary skills in technology for their future careers, interactive flat screens have also been shown to improve students results as they feel more confident getting involved in lessons.
Double Funding for DEIS Schools
The project not only funds schools for improving their digital infrastructure for disadvantaged students but schools in the Delivering Equality of Opportunity in Schools (DEIS) will receive double the amount of funding provided to non-DEIS schools. As a reputed supplier for many local Education and Training Boards (ETB) such as Kildare/Wicklow Education & Training Board (KWETB), the Louth/Meath Education & Training Board (LMETB), Dublin Dun Laoghaire ETB (DDLETB), and Longford Westmeath ETB (LWETB) you can be certain you are working with a highly professional team that will serve your best interests.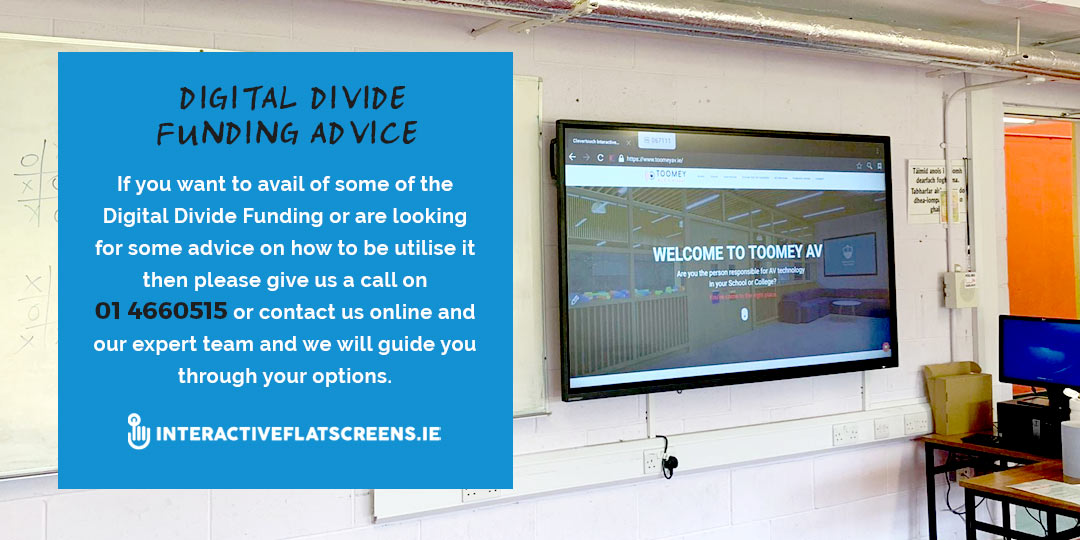 Digital Divide Funding Advice
If you want to avail of some of the Digital Divide Funding or are looking for some advice on how to be utilise it then please give us a call on 01 4660515 or contact us online and our expert team and we will guide you through your options.
Why Select Clevertouch?
CLEVERTOUCH are Interactive Touchscreen Displays for Education. Clevertouch Interactive Touchscreens are changing the way we educate our pupils a durable alternative to interactive Whiteboards and Projector solutions.

CLEVERTOUCH offers innovative features such as (optional) built in PCs and a built in App store that is focused on education.

CLEVERTOUCH offers a FIVE YEAR WARRANTY on its screens.

CLEVERTOUCH comes with a variety of education Softwares (Cleverlynx, Displaynote, Snowflake, Clevermaths and Clevernote). All Sofwares are easy to use and are child and teacher friendly!

CLEVERTOUCH is very competitive in price.