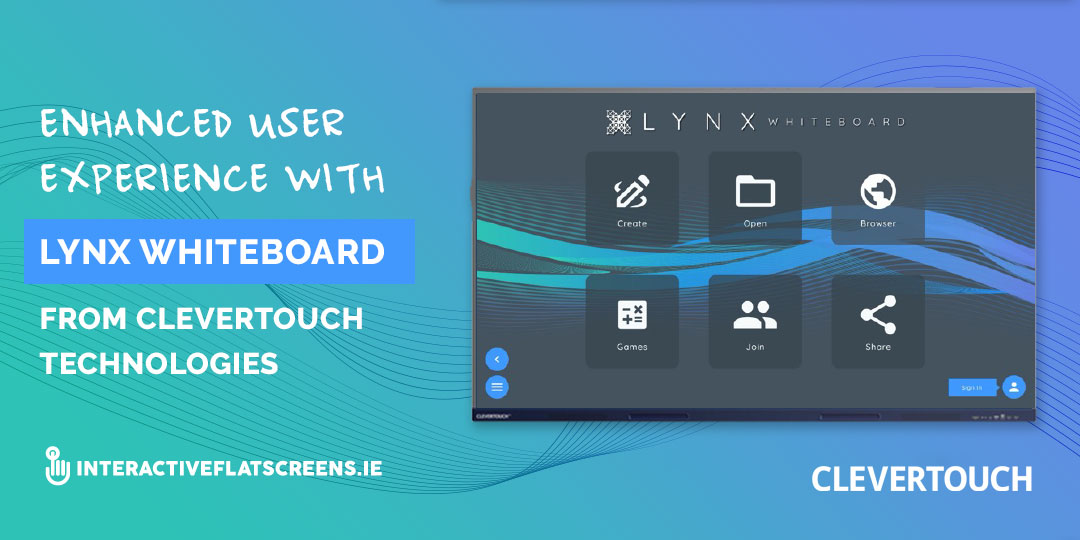 Enhanced User Experience with Lynx Whiteboard from Clevertouch Technologies
Nov 04, 2022
By Interactive Flat Screens
Clevertouch has created incredibly advanced whiteboard software which comes as the default whiteboard on the Clevertouch IMPACT Max. But it can also be installed on any of the IMPACT series from the Cleverstore. Not only can you download it to your Clevertouch device but Lynx Whiteboard can be downloaded to any device such as iPads, iPhones, Android devices, Windows PCs and Mac and then be mirrored from your chosen device to the Clevertouch display.
Lynx Whiteboard Signup
If you sign up at lynxcloud.app and confirm your email, you will be able to instantly start designing lessons. No license key or subscription required.
Cross Device Syncing – Lynx Whiteboard
A major selling point for the Lynx Whiteboard is the fact the Lynx Cloud Drive feature also allows you to sync with your other cloud drives such as Google Drive, Drop Box and OneDrive. This allows a friendly user experience enabling users to create content from anywhere they wish and then it can be opened directly onto the display. This means teachers can prepare from anywhere they want, including their own home. Loading files from linked drives is also a simple process.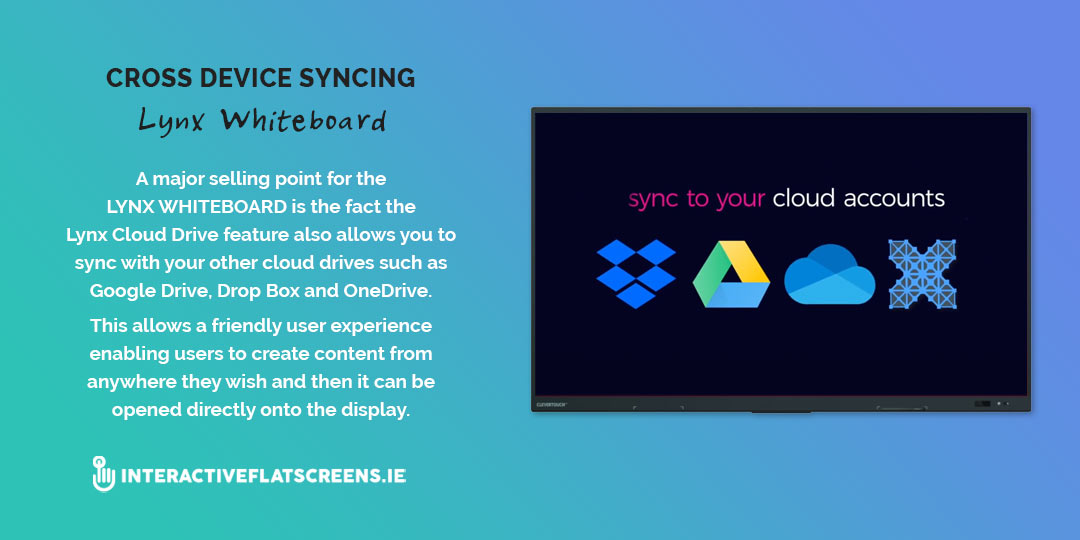 Media Search
Using the built in, safe search feature users can add images, gifs and videos to their presentation by dragging and dropping content into it. YouTube videos will play advert free, ensuring continuity in the classroom.
Teacher Tools
The teacher toolkit is packed with resources including the handwriting recognition tool, where users can specify a font, maths and shape recognition tools and the hugely popular Rainbow pen, where the ink changes colour each time the pen is lifted from the board along with the spotlight feature.
STEM Games & Activities
Clevertouch Technologies have partnered with STEM experts, PHET, to give you access to dozens of games and activities to engage students working on Science, Technology, Engineering and Maths.
Increase Engagement
Lynx whiteboard is designed to increase student engagement, with handwriting recognition, math formula recognition, dice, maths tools, science tools and more. There are always new reasons to get students up and actively learning. To get an idea of how the new Lynx Whiteboard can be used check out the overview video below.
Lynx Whiteboard Tips for Teachers
Ready to start creating lessons? Gilly & Gareth from Clevertouch Technologies have prepared some top video tips to help teachers. From making interactive scenes to teaching fractions with shape splitting, there's something for all subjects. Click the links below to view their top tips: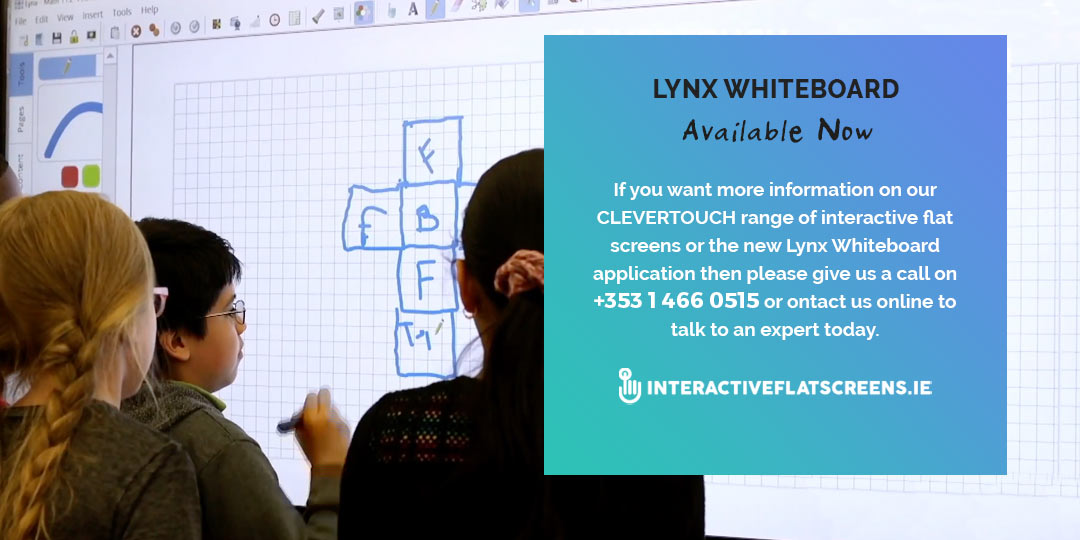 Lynx Whiteboard Available Now
If you want more information on our Clevertouch range of interactive flat screens or the new Lynx Whiteboard application then please give us a call on +353 1 466 0515 or contact us online to talk to an expert today.
Why Select Clevertouch?
CLEVERTOUCH are Interactive Touchscreen Displays for Education. Clevertouch Interactive Touchscreens are changing the way we educate our pupils a durable alternative to interactive Whiteboards and Projector solutions.

CLEVERTOUCH offers innovative features such as (optional) built in PCs and a built in App store that is focused on education.

CLEVERTOUCH offers a FIVE YEAR WARRANTY on its screens.

CLEVERTOUCH comes with a variety of education Softwares (Cleverlynx, Displaynote, Snowflake, Clevermaths and Clevernote). All Sofwares are easy to use and are child and teacher friendly!

CLEVERTOUCH is very competitive in price.