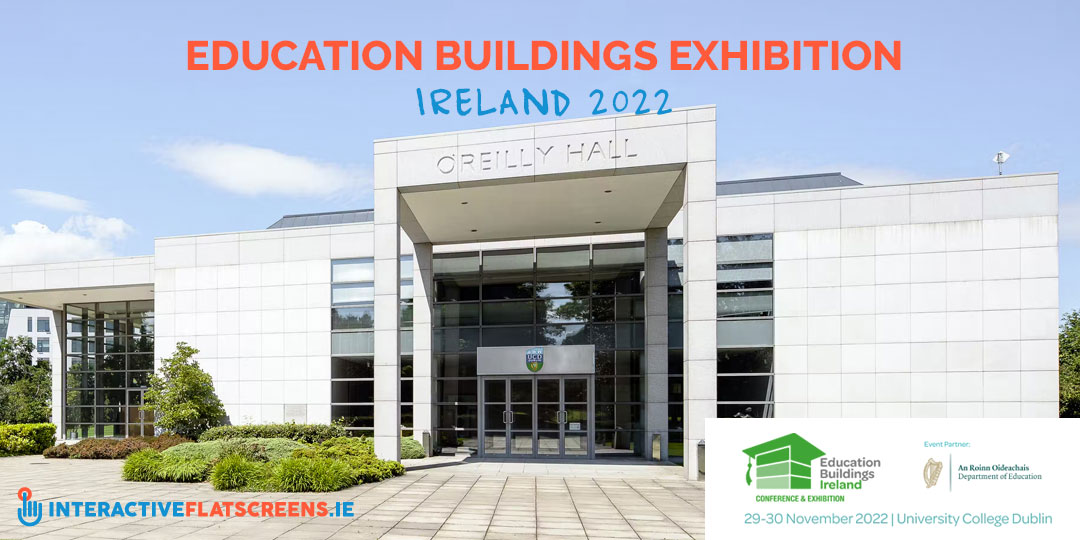 Education Buildings Exhibition Ireland 2022
Aug 31, 2022
By Interactive Flat Screens
We are pleased to announce Interactive Flat Screens will be in attendance in conjunction with Irish Clevertouch distributor Avio Presentation Systems and will exhibit at the Education Buildings Ireland Conference & Exhibition @ UCD on 29th & 30th November 2022.
Educational Environments for Students
This events focus is on collaborating to discover new ways to help create high quality educational environments for students in Early Childhood/Pre-School, Primary Education, Post Primary Education, Further Education and Training & Higher Education. The main aim is to assess the funding, design, construction, management and maintenance to gain a better grasp on the needs of students and learners. The event features a 2-day multi-stream conference and an exhibition showcasing some of the most innovative solutions. If you haven't seen the NEW Clevertouch Impact Max range then this is the perfect time to do so as these are the top of the range displays in the education sector. These interactive flat screens have everything you could ask for and are perfect from Preschool age to 3rd level. The inbuilt digital signage, native 4K Android and MDM system sets this range apart from all other panels on the market.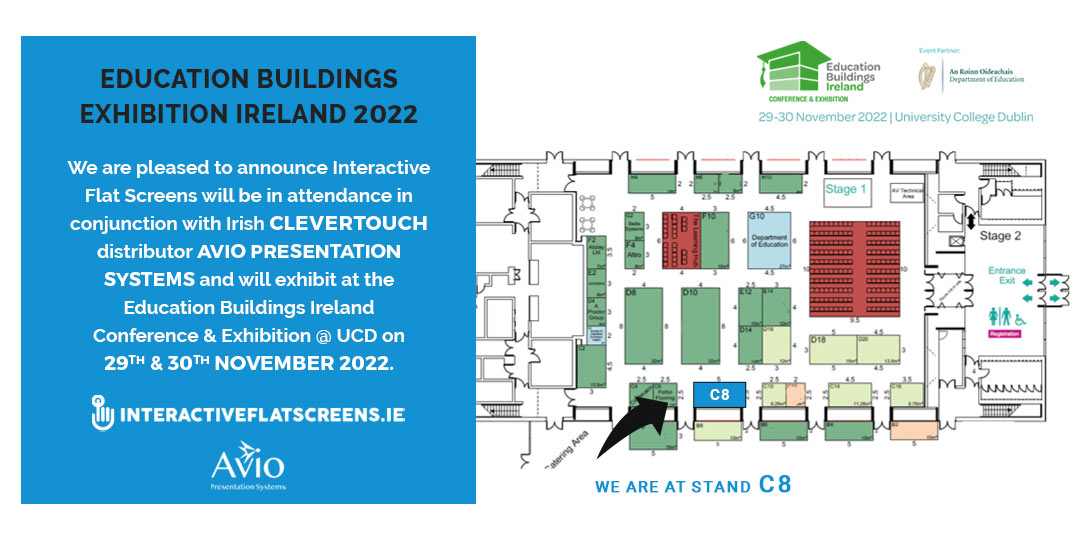 The First Education Buildings Ireland Event
"The Education Buildings Ireland 2022 event will be first of its kind in Ireland. We are delighted to welcome our colleagues from Northern Ireland, England, Scotland and Wales who are involved in the planning and delivery of education infrastructure. We look forward to engaging with them over the two days of the event and building relationships into the future. The event provides a very important networking opportunity for all stakeholders involved in planning and delivery of education infrastructure. We aim to work together to help create high quality learning environments for all students and learners. The speakers, each of whom have proven track records in education provision, and are all leaders in their respective areas, will provide invaluable insights for all those involved in the design, build, maintenance, management, and performance of education buildings."
– Hubert Loftus, Assistant Secretary General with responsibility for the Building and Planning Unit, Department of Education.
Why choose Interactive Flat Screens to fit out your school?
Here are some reason why you should choose us as your IFS solution provider:
We have 50 years of experience supplying necessary classroom equipment such as screens and projectors to the education sector.
We liaise directly with schools, architects, M&E consultants and relevant onsite contractors.
Our dedicated project management team is on hand with expert consultancy through every project from start to finish.
We have deployed SAP ERP systems inhouse, which allows comprehensive tracking of all projects from start to finish.
We provide comprehensive end user training to all staff.
We provide after-build onsite maintenance and support programmes.
We have multiple reference sites available on request.
We are not tied to any particular brand, therefore we can give you unbiased guidance on which technology best suits your needs.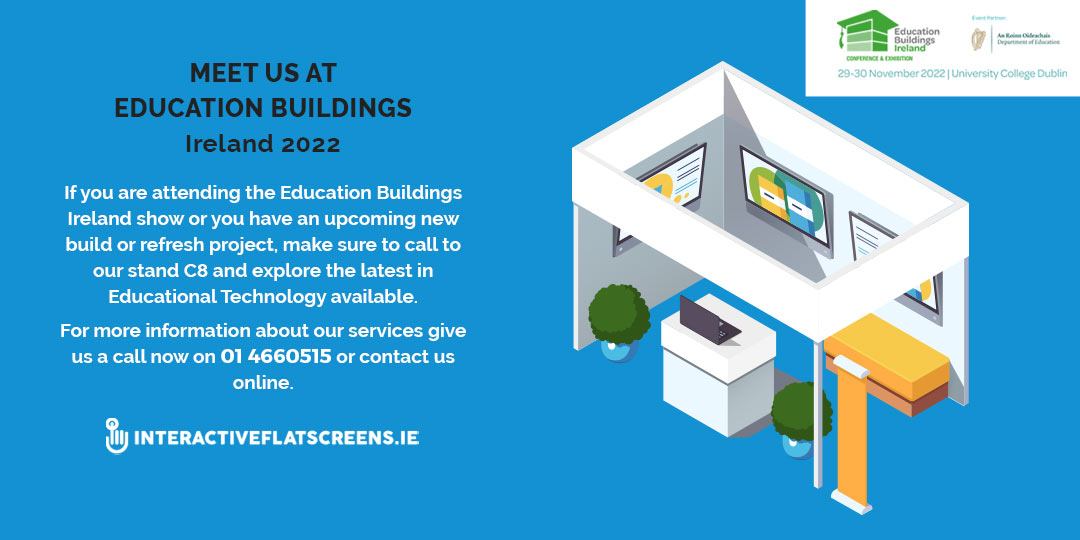 Meet Us At Education Buildings Ireland
If you are attending the Education Buildings Ireland show or you have an upcoming new build or refresh project, make sure to call to our stand C8 and explore the latest in Educational Technology available. For more information about our services give us a call now on 01 4660515 or contact us online.
Why Select Clevertouch?
CLEVERTOUCH are Interactive Touchscreen Displays for Education. Clevertouch Interactive Touchscreens are changing the way we educate our pupils a durable alternative to interactive Whiteboards and Projector solutions.

CLEVERTOUCH offers innovative features such as (optional) built in PCs and a built in App store that is focused on education.

CLEVERTOUCH offers a FIVE YEAR WARRANTY on its screens.

CLEVERTOUCH comes with a variety of education Softwares (Cleverlynx, Displaynote, Snowflake, Clevermaths and Clevernote). All Sofwares are easy to use and are child and teacher friendly!

CLEVERTOUCH is very competitive in price.