CleverTouch For Business – CleverTouch PRO Series
The CLEVERTOUCH Pro Series is a highly versatile interactive touchscreen that can be used in a wide variety of professional settings including reception areas, hospitals, universities, meeting rooms and collaborative areas.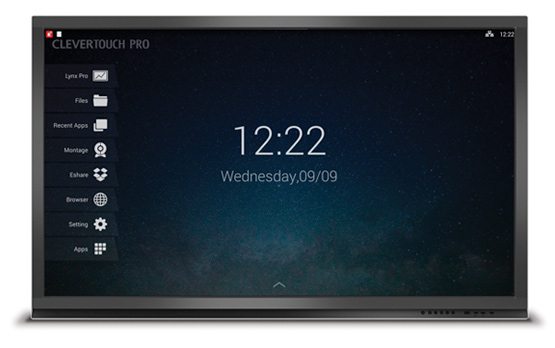 Despite being much more than a powerful interactive touchscreen, the Pro Series is remarkably easy to use, thanks to its amazing LUX user interface. Furthermore, it requires no set-up or calibration, has full access to the internet and can display a variety of files without the need to connect additional hardware.
Whilst collaboration and screen sharing are at the heart of the Pro Series, a variety of integrated business apps provide unequalled flexibility. With a wide selection of common-sense connectivity the Pro Series can find an invaluable role in many businesses, and provide a wonderful interactive experience for employees and customers.
The Pro also comes with a number of accessories to enhance the overall experience.  For example, with the Clevershare wireless device you can control the Clevertouch Pro from anywhere in the room – simply plug the Clevershare into your laptop's USB port and you can show and edit your laptop's content on the Clevertouch screen.
The Clevertouch Pro is built without compromise. An all metal frame, 4mm safety glass, and a 5 year de-install/re-install warranty guarantees your Clevertouch will be enhancing your workspace for many years
Features Of the CleverTouch PRO Series
DURABILITY
Toughened anti glare glass
strong bezel,
& five year warranty.
LUX
LUX user interface – a
better experience with
every touch.
Multi Touch
Up to 10 point multi touch
gesture and
writing capability.
4K Ultra HD
Spectacular 4K
ultra high definition,
high brightness display.
Connectivity
HDMI, VGA, Audio,
USB, RS232,
LAN & more.
No Shadow
Unlike interactive
whiteboards and
projector solutions.