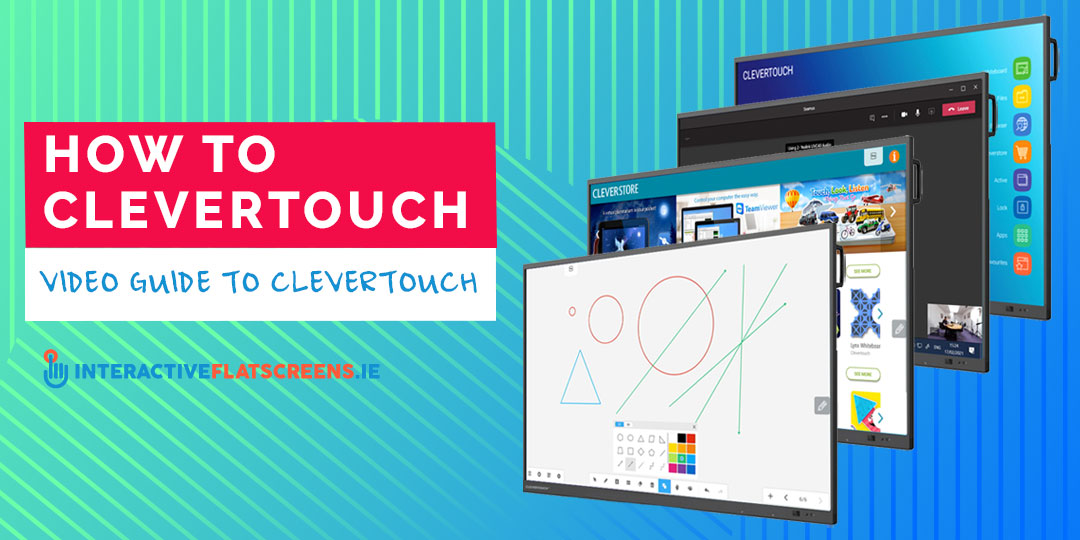 How To Clevertouch – Video Guide to Clevertouch
Apr 15, 2021
By Interactive Flat Screens
We here at IFS we are dedicated to providing an excellent service throughout a products life for our clients. Our contact doesn't end at the point of sale and we are always on hand for help, advice and AV maintenance. With this in mind, we wanted to create a variety of posts with How to Guides for our Clevertouch interactive flat screen range. They couldn't be easier or more fluid to use and we want you to see the features waiting for you and your fingertips.
How To Turn On Clevertouch
New technology can be daunting at times, but it doesn't have to be. With the following video we show you how to turn your Clevertouch panel on.
Understanding The Clevertouch Home Menu
The Home menu doesn't have to be daunting for the uninitiated. Clevertouch couldn't be easier to navigate via the Home menu and below is a little example of what you can expect from the Home menu.

Clevertouch Impact Range Feature Review
With so many features of the Clevertouch Impact range at your disposal the panel specialises in a smooth interface that enables fast, efficient movement between apps/files/sources. Multitouch allows for multiple inputs on the screen from various sources. Whether it's a teacher/student interaction or a group project, multiple people can write on the screen at once allowing for a more interactive learning environment. The below video is a small overview of some features and navigating through the various modes the Clevertouch panels have to offer.
Clevertouch Training Videos – More to Come
These videos are merely a start up guide for new users. We will be adding future posts to go into more detail on some of the specific features the Clevertouch range offers. As previously stated, we are always on hand for any queries regarding the Clevertouch range and we will always be ready to maintain our products to extend their life and save our customers money in the long term.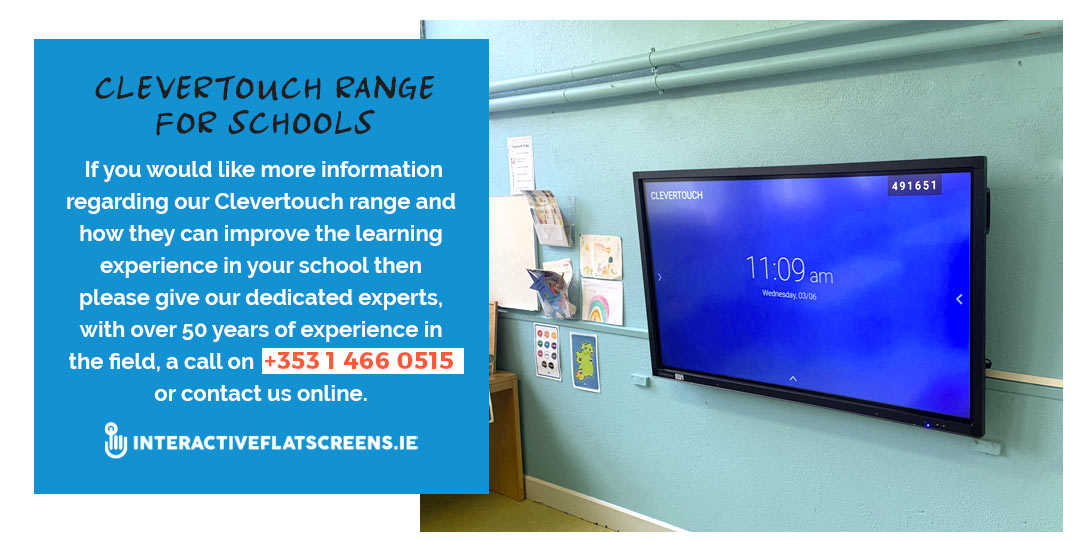 Clevertouch Range for Schools
If you would like more information regarding our Clevertouch range and how they can improve the learning experience in your school then please give our dedicated experts, with over 50 years of experience in the field, a call on +353 1 4660515 or contact us online.
Why Select Clevertouch?
CLEVERTOUCH are Interactive Touchscreen Displays for Education. Clevertouch Interactive Touchscreens are changing the way we educate our pupils a durable alternative to interactive Whiteboards and Projector solutions.

CLEVERTOUCH offers innovative features such as (optional) built in PCs and a built in App store that is focused on education.

CLEVERTOUCH offers a FIVE YEAR WARRANTY on its screens.

CLEVERTOUCH comes with a variety of education Softwares (Cleverlynx, Displaynote, Snowflake, Clevermaths and Clevernote). All Sofwares are easy to use and are child and teacher friendly!

CLEVERTOUCH is very competitive in price.