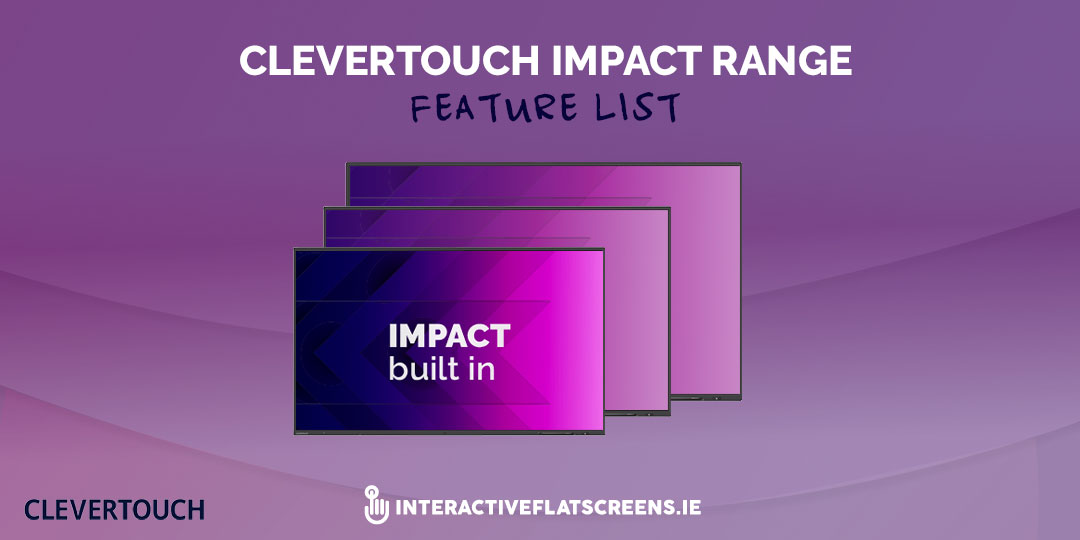 Clevertouch Impact Range Feature List
Nov 24, 2020
By Interactive Flat Screens
Clevertouch have released their new range of interactive flatscreens. The Impact series comes in 2 variants, the Impact and the Impact Plus and in this post we'll have a look at the range of features they contain.
Clevertouch Impact Features
They new Clevertouch Impact range comes in a variety of sizes starting from 65", 75" & 86", with the Plus having the additional 55" panel for choice. All come with 4K resolution with the Impact Plus having a native 4K user interface. Below is a list of features for both panels:
User Interface – Lux 8
High Precision
20 Multi touch points
Instant Updates (OTA)
5 Year Remote Management
Integrated Speakers
Response Times of 8ms
Brightness of 400 nits
Multiple HDMI, USB 2.0 & 3.0 slots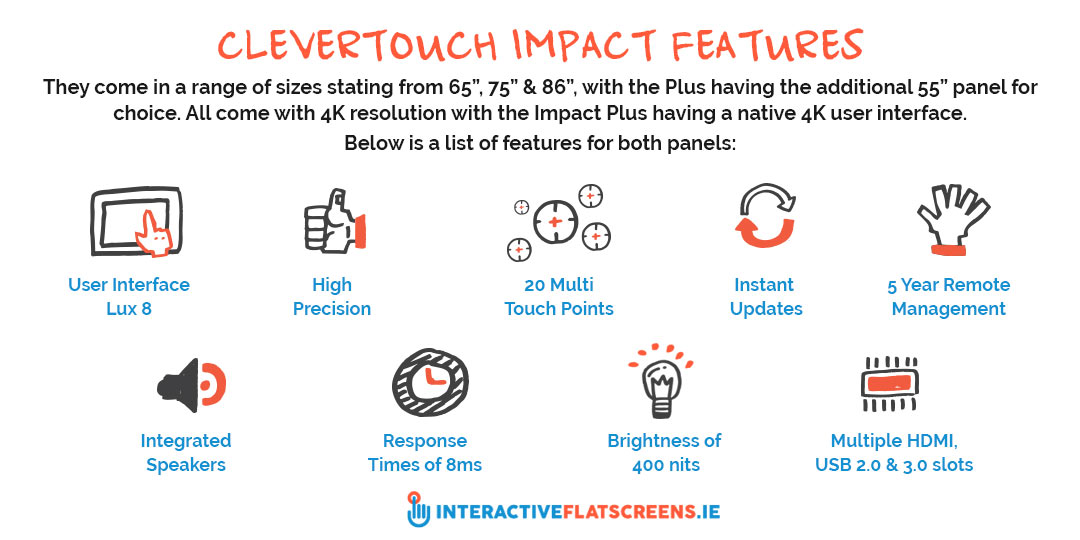 Built In MDM System
The new panels also come with a great new Mobile Device Management (MDM) system which allows for remote centralised control of all your devices. Here are some of the benefits to the new MDM system system:
Control hundreds of Clevertouch devices remotely
Create groups to make sure each screen has the most suitable apps and files for where it is used, such as C-Suite, Design Studios, Maths Class, Reception Class, corporate boardroom, huddle room, etc.
Take control of the Clevertouch screen from your desktop
Install APKs, policies and files
Push messages directly to the Clevertouch display, ideal for security announcements
Anti-theft module – Lock, unlock and reset displays
Restart or shutdown multiple screen/s remotely by a single click
Wipe the screen
Optionally, Clevertouch MDM can serve as the basis for managing other devices in the organisation (Android, Windows, iOS and Chrome OS) from a single console, such as: desktops, laptops, tablets and smartphones.
This will allow for total control remotely of all your devices enabling your tech department the capacity to make changes, updates, removal of software from the comfort of their office. No need for a tech person to be travelling between multiple classrooms.
Clevertouch and USB-C Slots
Another feature which we're extremely excited about is the addition of USB-C slots. For the first time ever you can connect to your tablet send audio and video down one cable and best of all it will even charge your tablet! Something which is often overlooked is the touch experience. We feel these new panels are next level when it comes to how intuitive the experience will be for teachers and we can vouch that they'll love it.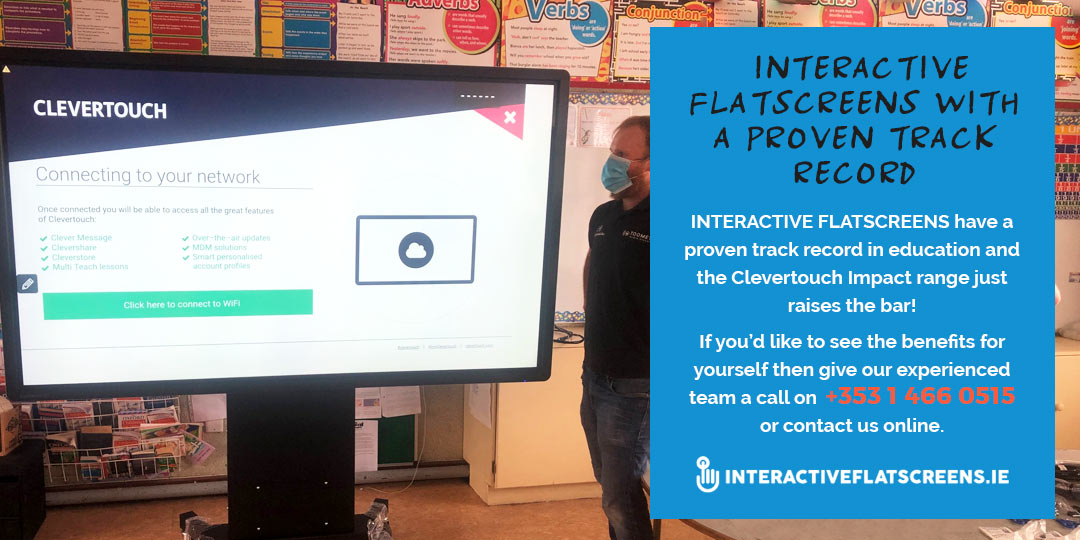 Interactive Flatscreens With A Proven Track Record
Interactive flatscreens have a proven track record in education and the Clevertouch Impact range just raises the bar! If you'd like to see the benefits for yourself then give our experienced team a call on +353 1 466 0515 or contact us online.
Why Select Clevertouch?
CLEVERTOUCH are Interactive Touchscreen Displays for Education. Clevertouch Interactive Touchscreens are changing the way we educate our pupils a durable alternative to interactive Whiteboards and Projector solutions.

CLEVERTOUCH offers innovative features such as (optional) built in PCs and a built in App store that is focused on education.

CLEVERTOUCH offers a FIVE YEAR WARRANTY on its screens.

CLEVERTOUCH comes with a variety of education Softwares (Cleverlynx, Displaynote, Snowflake, Clevermaths and Clevernote). All Sofwares are easy to use and are child and teacher friendly!

CLEVERTOUCH is very competitive in price.