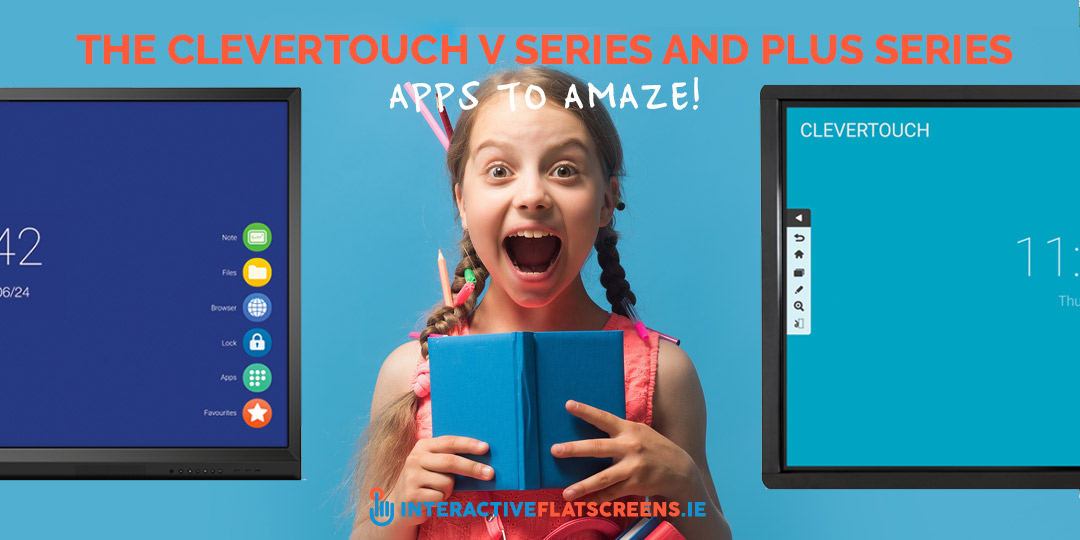 The Clevertouch V Series and Plus Series: Apps to Amaze!
Sep 23, 2019
By Interactive Flat Screens
The apps that come with both the V series and Plus series of the Clevertouch Interactive Flat Screen are truly awesome. These apps allow you to do pretty much anything you want in an educational context. Some of them you may never use but it is reassuring to know they are there for you, should the need arise.
Clevertouch Range of Apps
With this in mind, let's take a fresh look at the impressive range of Clevertouch educational apps that come with both series of Clevertouch flat panel. First, let's look at the apps that they share.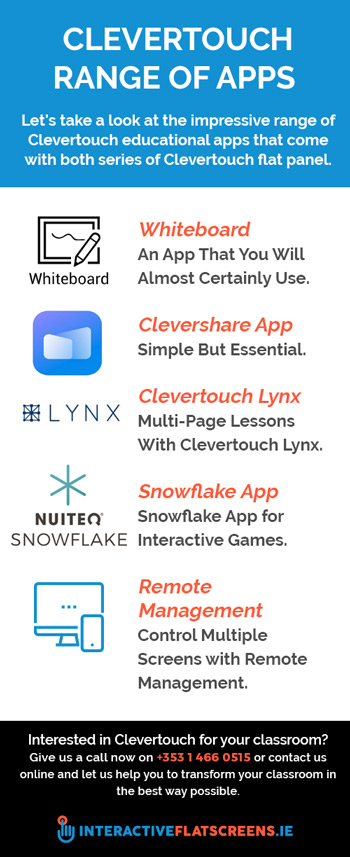 Whiteboard – An App That You Will Almost Certainly Use
The Whiteboard is an app that you will almost certainly use in any classroom. It enables you to write pretty much anything you want on the screen and this is fundamental to almost all lessons. Pens, shapes, colours and a maths formula converter are all built into the Whiteboard.
Clevershare App – Simple But Essential
Clevershare is a simple but essential tool to aid lessons in any subject or area. It allows you to screen share your iPhone, tablet or laptop to your Clevertouch screen.
Multi-Page Lessons With Clevertouch
The Lynx app allows you to create multi-page lessons with embedded media through its powerful annotation and lesson planning software.
Snowflake App for Interactive Games
Snowflake is a very popular app that allows you to create interactive games and lessons or join the online lessons community to download activities others have created.
Control Multiple Screens from One Location
Remote Management allows you to control multiple flat screens from one central location. This is useful for installing updates and loading apps and software.
Extra Apps Available for Clevertouch Flat Screens
So, as if all that wasn't enough, now let's look at the extra apps you get with the Plus series of Clevertouch Interactive Flat Screens.
The Cleverstore Is Your Source for Apps
The Cleverstore is your source if you are looking for a particular software solution. It has over 100 free apps covering all subjects, in any language. If you can afford it, this choice is a luxury well worth having.
For Students of Mathematics
The MathLab scientific calculator is integrated with algebra for a very powerful tool that will serve all students of mathematics and subjects that use mathematics, no matter what level they are at.
Dynamic Full Screen Announcements
Clevermessage enables you to send dynamic full screen announcements and alerts to your touch screens remotely.
Receive and Send Emails with Clevertouch
And last, but not least, paying the extra euros for a Clevertouch Plus will allow you to receive and send emails using the familiar Android interface.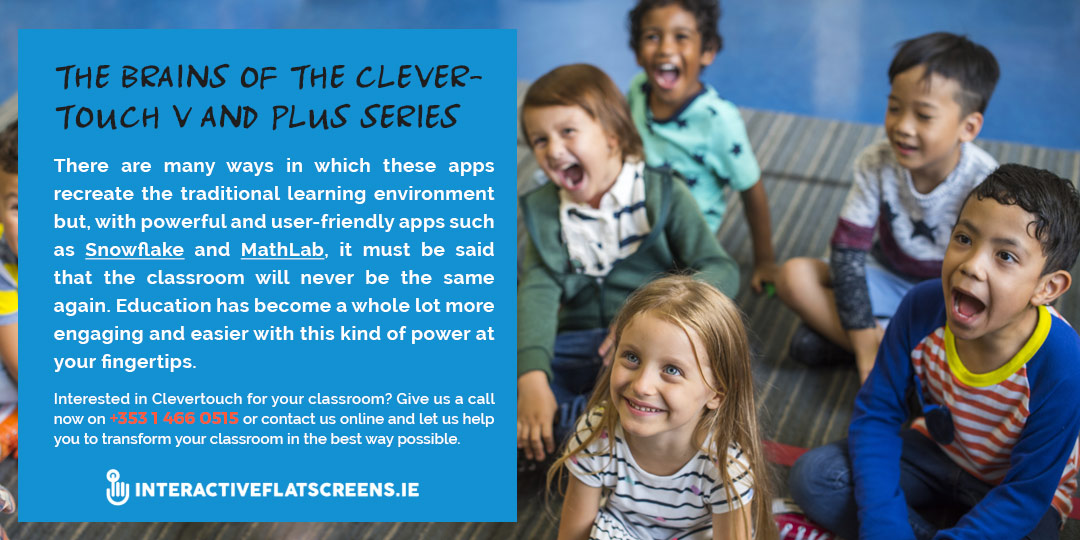 The Brains of the Clevertouch V and Plus Series
So, these are the brains of the Clevertouch V and Plus Series. There are many ways in which these apps recreate the traditional learning environment but, with powerful and user-friendly apps such as Snowflake and MathLab, it must be said that the classroom will never be the same again. Education has become a whole lot more engaging and easier with this kind of power at your fingertips. The advent of these wonderful machines and the software that drives them has proven that the IT revolution in the classroom is having its most important impact on the ways in which we teach and learn.
Fall In Love With The Clevertouch
Interested? Why not get in contact with us today and we can discuss bringing these awesome machines into your school? Any teacher that enjoys their job and is good at it will fall in love with the Clevertouch in a matter of minutes! So, don't hesitate and give us a call now on +353 1 466 0515 or contact us online and let us help you to transform your classroom in the best way possible.
Don't miss out on future blog posts and be in with a chance to win a €100 voucher by joining our mailing list now!
Why Select Clevertouch?
CLEVERTOUCH are Interactive Touchscreen Displays for Education. Clevertouch Interactive Touchscreens are changing the way we educate our pupils a durable alternative to interactive Whiteboards and Projector solutions.

CLEVERTOUCH offers innovative features such as (optional) built in PCs and a built in App store that is focused on education.

CLEVERTOUCH offers a FIVE YEAR WARRANTY on its screens.

CLEVERTOUCH comes with a variety of education Softwares (Cleverlynx, Displaynote, Snowflake, Clevermaths and Clevernote). All Sofwares are easy to use and are child and teacher friendly!

CLEVERTOUCH is very competitive in price.