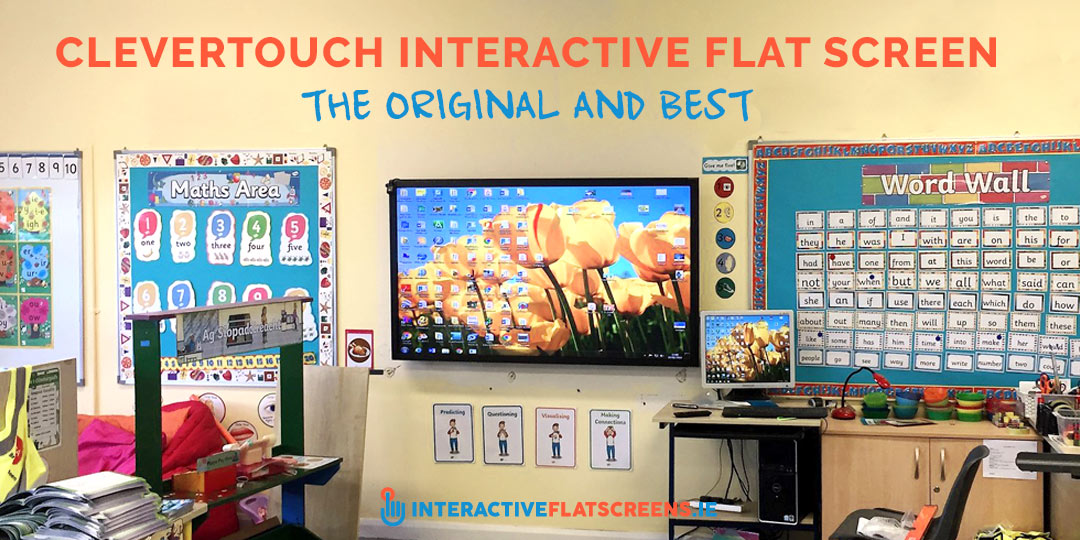 CleverTouch Interactive Flat Screen: The Original and Best
Feb 18, 2019
By Interactive Flat Screens
CleverTouch – Worth The Investment
There are many different makes and models of interactive flat screens on the market, but CleverTouch is still king. It is the original and best touch screen. It might cost a little more than other brands, but you'll soon find out where the money went if you choose to invest in one.
The Latest in Touchscreen Technology
CleverTouch is constantly developing its products so that if you buy one you are getting the very latest in technology. Let's recap on the two strands of interactive panel that CleverTouch offers.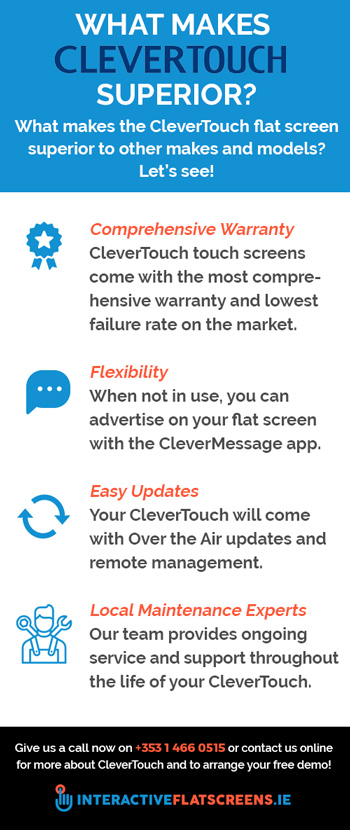 A Premium Touch Screen – CleverTouch V Series
With its stunning 4k resolution, inbuilt android, wireless connectivity and bundles of free software, the CleverTouch V series has everything you could want from a premium touch screen at an entry level price.
CleverTouch Plus Series
The CleverTouch Plus Series is simply the monarch of all interactive flat screens on the market. It has all the features of the V series but also includes CleverStore and CleverMessage. The CleverStore app store offers approx. 180 premium, vetted and free educational apps. CleverMessage is an inbuilt digital signage solution. The Plus series also offers the CleverShare2 app, a new two- way wireless collaboration app which allows you to connect any device wirelessly.
What Makes CleverTouch Superior?
So now you know what the CleverTouch flat screens can do but what makes them superior to other makes and models? Let's see!
Comprehensive Warranty – CleverTouch touch screens come with the most comprehensive warranty and lowest failure rate on the market.
Flexibility – When not in use, you can advertise on your flat screen with the CleverMessage app. Run your CleverTouch machine 24/7.
Easy Updates – Your CleverTouch will come with Over the Air updates and remote management. Be in control of when and what you update.
Local Maintenance Experts – Our team provides ongoing service and support throughout the life of your CleverTouch. Enjoy high quality and low maintenance with the most advanced interactive display on the market.
You simply don't get this level of excellence with other makes of interactive flat screen.
Excellent Value That Outperforms
Yes, there are so many makes and models of interactive flat screens out there, all with their own set of features. But if it is quality you are looking for, there  really is no alternative to the mighty CleverTouch. Again, you might pay a little more for CleverTouch, but it is excellent value for money as it outperforms every other flat screen on the market. Trust us on this. We've been supplying interactive flat screens to schools across Ireland for many years, so we know a lot about them. We know the market and the industry inside out, so when we say it is the best, believe us!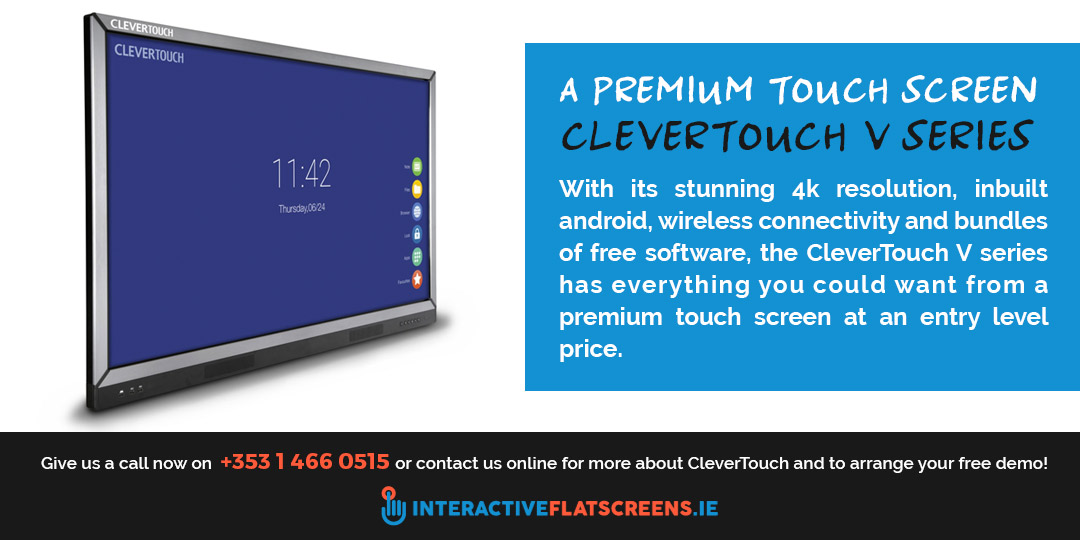 The Premiere Touch Screen Systems
We are proud to be associated with such excellent devices as the CleverTouch V Series and Plus Series. They truly are the premiere touch screens available these days, but don't just take our word for it, contact us today for a free demo. Give us a call now on +353 1 466 0515 or contact us online for more info!
Don't miss out on future blog posts and be in with a chance to win a €100 voucher by joining our mailing list now!
Why Select Clevertouch?
CLEVERTOUCH are Interactive Touchscreen Displays for Education. Clevertouch Interactive Touchscreens are changing the way we educate our pupils a durable alternative to interactive Whiteboards and Projector solutions.

CLEVERTOUCH offers innovative features such as (optional) built in PCs and a built in App store that is focused on education.

CLEVERTOUCH offers a FIVE YEAR WARRANTY on its screens.

CLEVERTOUCH comes with a variety of education Softwares (Cleverlynx, Displaynote, Snowflake, Clevermaths and Clevernote). All Sofwares are easy to use and are child and teacher friendly!

CLEVERTOUCH is very competitive in price.