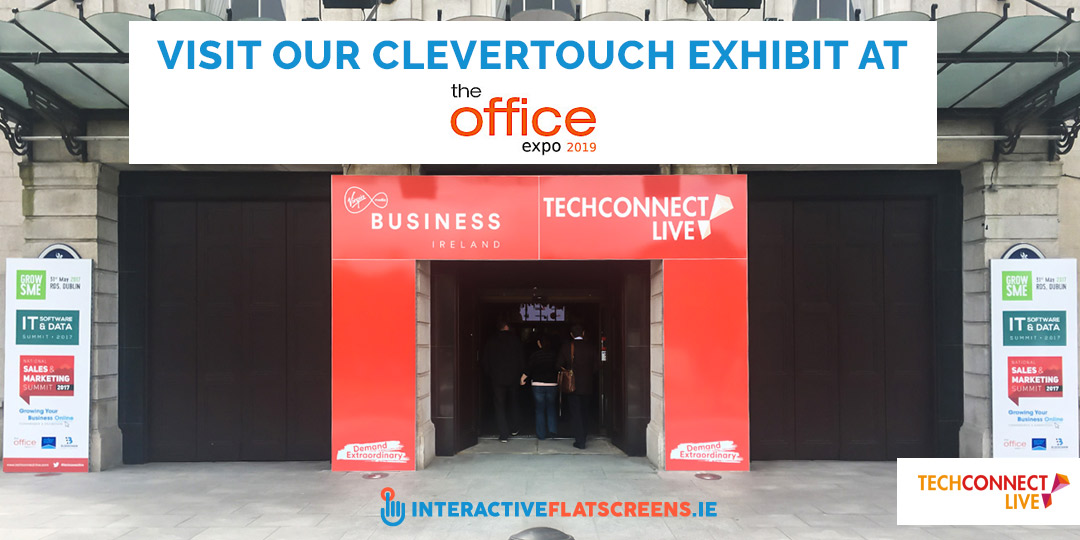 Visit Our Clevertouch Exhibit at Office Expo
May 21, 2019
By Interactive Flat Screens
Toomey AV is pleased to announce that we will be exhibiting at the Tech Connect Live Expo in the RDS on May 30th. We will be setting up our stall at the Office Expo, the largest event dedicated to the office sector in Ireland. With over 100 exhibitions and 50 talks, the Office Expo promises to be a great event with plenty of opportunities to network and buy. The best in furniture and interior, IT and automation, AV, Office lighting, storage solutions, training solutions and office stationery will be on offer.
CleverTouch Interactive Flat Screen Exhibit @ Office Expo
Our wares at the Office Expo will include the Clevertouch Interactive Flat Screen. This high calibre, cost-effective piece of technology is the state-of-the-art solution to all your business communications needs. Presentations and video conferencing will never be the same again with this powerful interactive multi-media tool.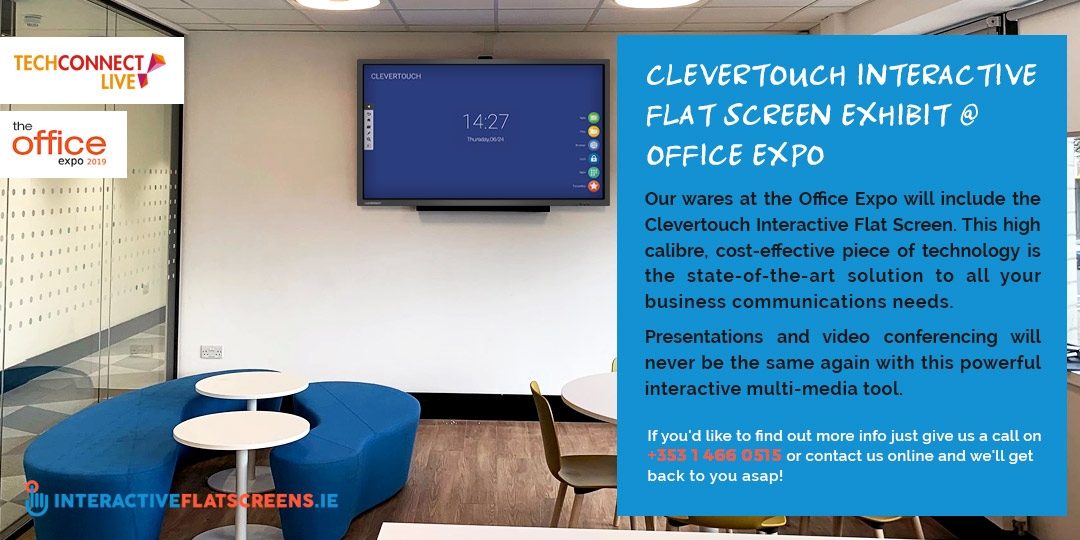 Features of CleverTouch Interactive Flatscreens
There is a reason why CleverTouch is one of the top selling pieces of kit we have and it is largely due to it's stellar range of features, making it one of the premiere interactive flatscreens available on the market today. Some of these features are: 4k resolution, multi inputs, 20-point touch, inbuilt Android, USB functionality, inbuilt speakers and easy to use, intuitive interface.
Tap Into the Potential of CleverTouch
Making presentations in the office has suddenly become so much easier, exciting and fun with the advent of this powerhouse of interactive technology. You can really get creative and playful with your project once you tap into the potential of the Clevertouch IFS and tapping into this potential will be easy thanks to the simple, intuitive interface.
The Power of CleverTouch for Business
Deliver a fast and powerful presentation or tutorial that will leave your audience struck in surprise and admiration. Nothing can prepare you for the power of Clevertouch. But don't take our word for it! Come visit us at the Office Expo and we will demonstrate all this superb machine can do. It really is a game changer as far as delivering presentations, having business meetings and video conferencing go. Retire your old noisy and troublesome projector and replace it with one of these beautiful, sleek and high performing touch screens. We promise that you will never look back.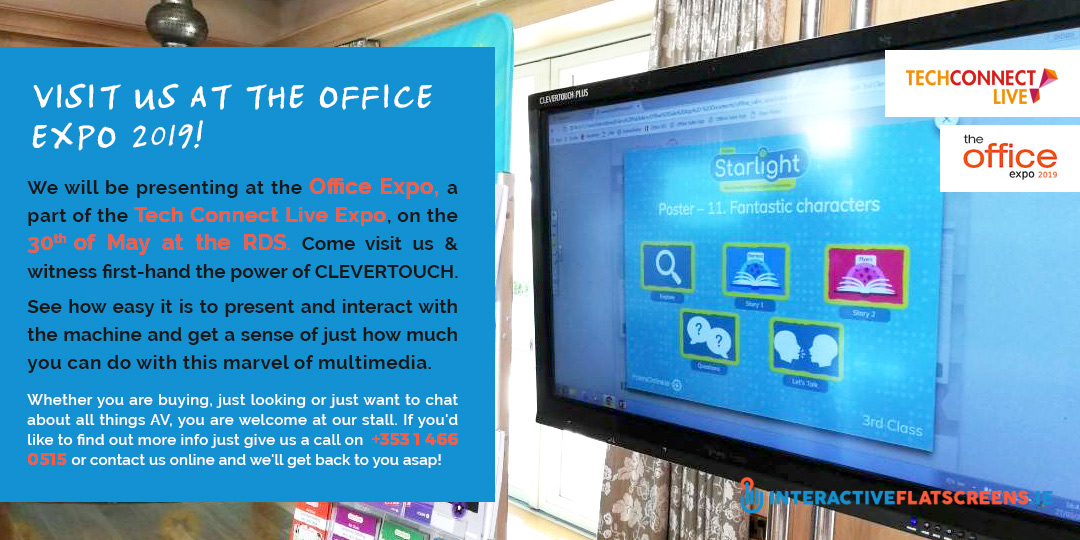 Visit Us At The Office Expo 2019!
So, just to recap, we will be presenting at the Office Expo, a part of the Tech Connect Live Expo, on the 30th of May at the RDS. Come visit us and witness first-hand the power of Clevertouch as wielded by one of our team. See how easy it is to present and interact with the machine. Get a sense of just how much you can do with this marvel of multimedia. Whether you are buying, just looking or just want to chat about all things AV, you are welcome at our stall. If you'd like to find out more info just give us a call on +353 1 466 0515 or contact us online and we'll get back to you asap!
So, see you on the 30th!
Don't miss out on future blog posts and be in with a chance to win a €100 voucher by joining our mailing list now!
Why Select Clevertouch?
CLEVERTOUCH are Interactive Touchscreen Displays for Education. Clevertouch Interactive Touchscreens are changing the way we educate our pupils a durable alternative to interactive Whiteboards and Projector solutions.

CLEVERTOUCH offers innovative features such as (optional) built in PCs and a built in App store that is focused on education.

CLEVERTOUCH offers a FIVE YEAR WARRANTY on its screens.

CLEVERTOUCH comes with a variety of education Softwares (Cleverlynx, Displaynote, Snowflake, Clevermaths and Clevernote). All Sofwares are easy to use and are child and teacher friendly!

CLEVERTOUCH is very competitive in price.