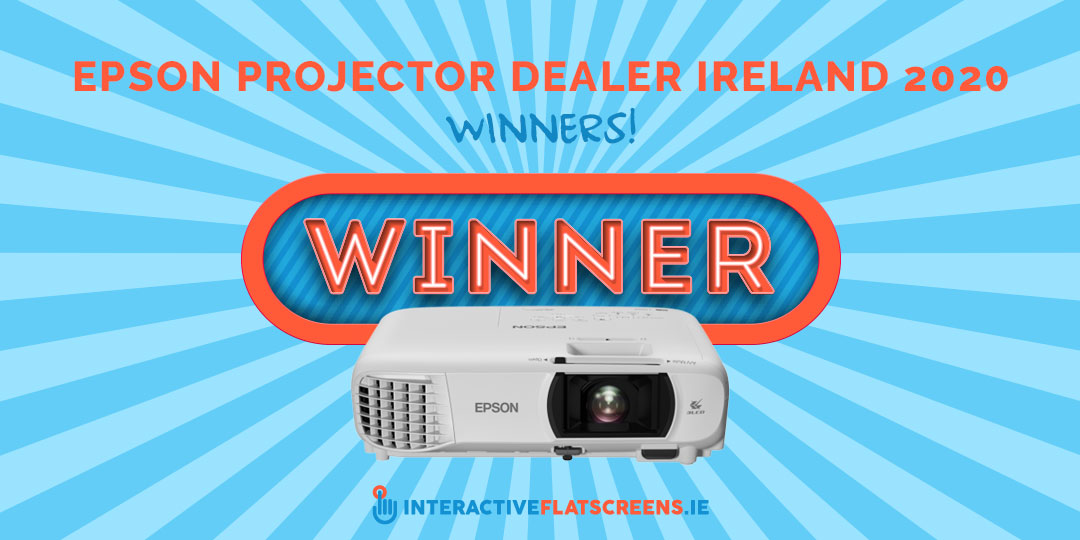 EPSON Projector Dealer Ireland 2020 – Winners!
Feb 22, 2021
By Interactive Flat Screens
It is with immense pleasure that we announce our parent company Toomey Audio Visual has won the prestigious EPSON Project Dealer Ireland 2020 award.
A Proud Moment
In what is possibly the hardest year in recent memory for many of us around the globe in 2020 it is an even prouder moment to know the hard work we've been putting in behind the scenes to help as many schools as possible to realise their digital dreams in such a turbulent year. This award is granted to "Epson partners who have been resilient and successful during the past 12 months. Based not only on unit sales numbers but on a number of key factors".
EPSON Premier Partners & Installation Certified Agents
When choosing your supplier you can be safe in the knowledge we are EPSON Premier partners and EPSON Installation certified agents with over 52 years of experience with projectors. Our team are not only experts in each product, but they are highly trained and qualified to guide you through the process of choosing the perfect product for your school. As well as professional installation we offer after sales back-up and support. We won't forget about you once the installation is complete. We'll always continue our relationship with all of our clients long after installation is complete.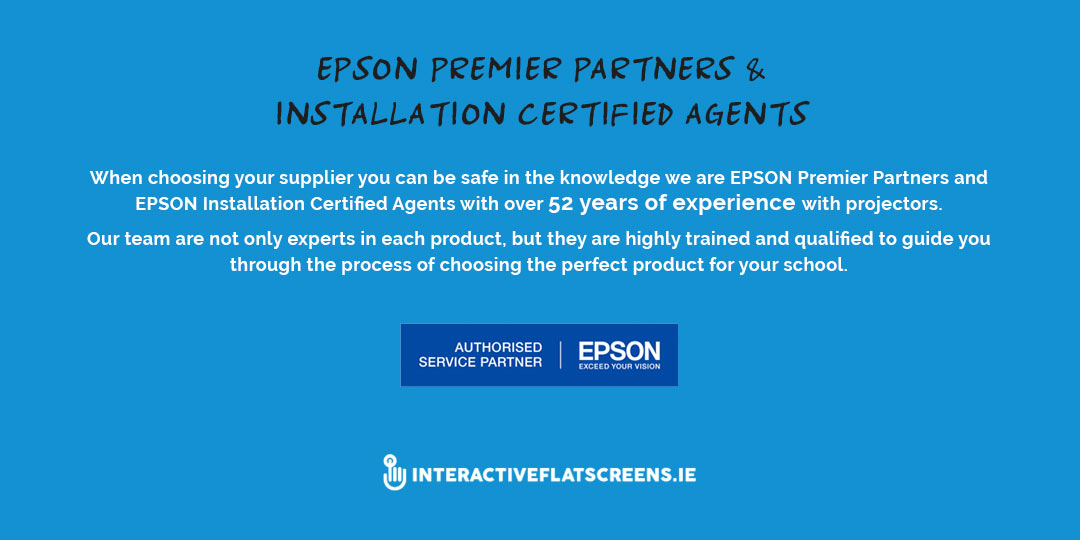 EPSON – Leaders in Projection
With a longstanding relationship with EPSON we're extremely proud of this award and we hope to continue our glowing partnership well in to 2021. Epson are now leading the way in laser projection which offers schools the option of projectors without lamps and maintenance.
"Epson projectors offer reliability, superior image quality, larger image sizes and best value for money for any educational establishment" says Corinna Toomey, Sales Director at Toomey "furthermore, teachers want larger images at the front of the classroom, only EPSON can supply an Ultra short throw projector that can fill a 2400mm wide whiteboard".
Keith Jackson, Service Manager Toomey AV, has been servicing projectors for over 20 years with Toomey AV.
"Our service bench is considerably quieter than it used to be, with onsite warranty support and lamps that can run up to 10,000 hours, unfortunately we don't get to see the projectors we sell too often".
The EPSON EB685Wi – A Crowd Favourite
One of our current favourites is the Epson EB685wi. This projector is the Rolls Royce of projectors. Amongst its many features it boasts are ultra short-throw, super bright, interactive and extremely good value. This is one of the top sellers for classrooms and gets great feedback from our clients.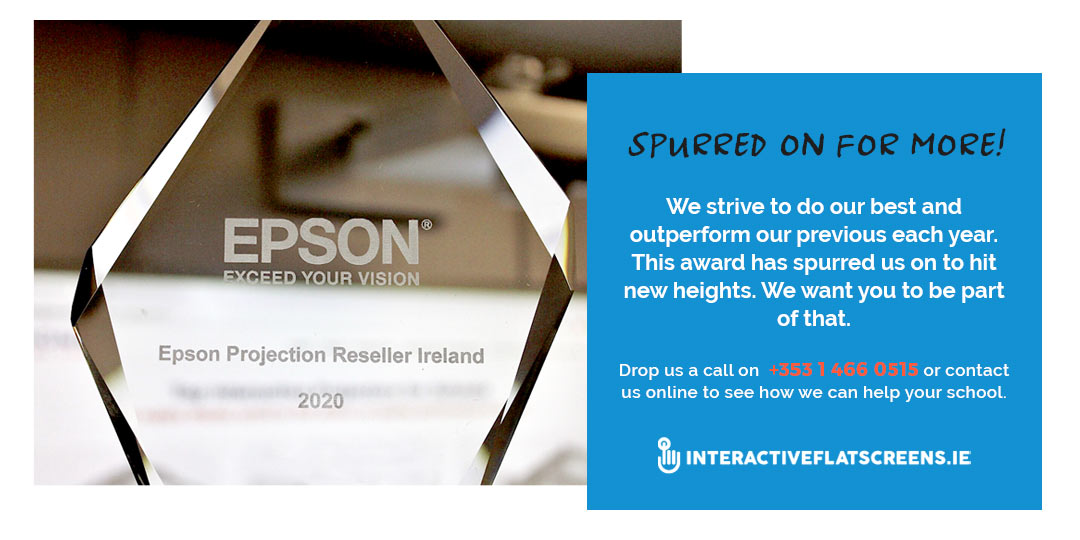 Spurred On For More!
We strive to do our best and outperform our previous each year. This award has spurred us on to hit new heights. We want you to be part of that. Drop us a call on +353 1 4660515 or contact us online to see how we can help your school.
Why Select Clevertouch?
CLEVERTOUCH are Interactive Touchscreen Displays for Education. Clevertouch Interactive Touchscreens are changing the way we educate our pupils a durable alternative to interactive Whiteboards and Projector solutions.

CLEVERTOUCH offers innovative features such as (optional) built in PCs and a built in App store that is focused on education.

CLEVERTOUCH offers a FIVE YEAR WARRANTY on its screens.

CLEVERTOUCH comes with a variety of education Softwares (Cleverlynx, Displaynote, Snowflake, Clevermaths and Clevernote). All Sofwares are easy to use and are child and teacher friendly!

CLEVERTOUCH is very competitive in price.