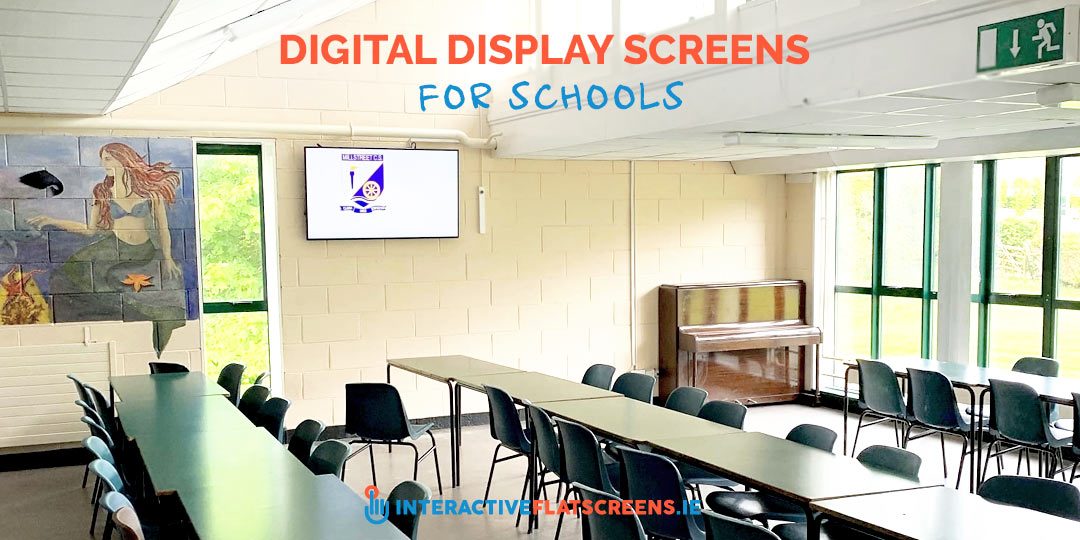 Digital Display Screens for Schools
Jul 31, 2020
By Interactive Flat Screens
As we slowly ease out of lockdown and return to a new kind of normality safety is of the utmost importance for teachers and students alike. The danger of Covid-19 still lurks but if we all stick to the safety protocols in place then we can eradicate it sooner. But while it's still hovering unchecked, we will fight it at every stop, including digital display screens for schools.
Digital Signage for a Consistent Message
With digital signage you can provide a consistent message on all screens to your students. You can also have a variety of messages that change at intervals. The message can be instantly changed in seconds too. No need for printing more material if you need updated content. You can change at will with no extra costs with digital signage. Also, to avoid screen fatigue you can combine any relevant Covid-19 safety messages with advertising of specific events, assemblies, or fun content to keep students and teachers engaged.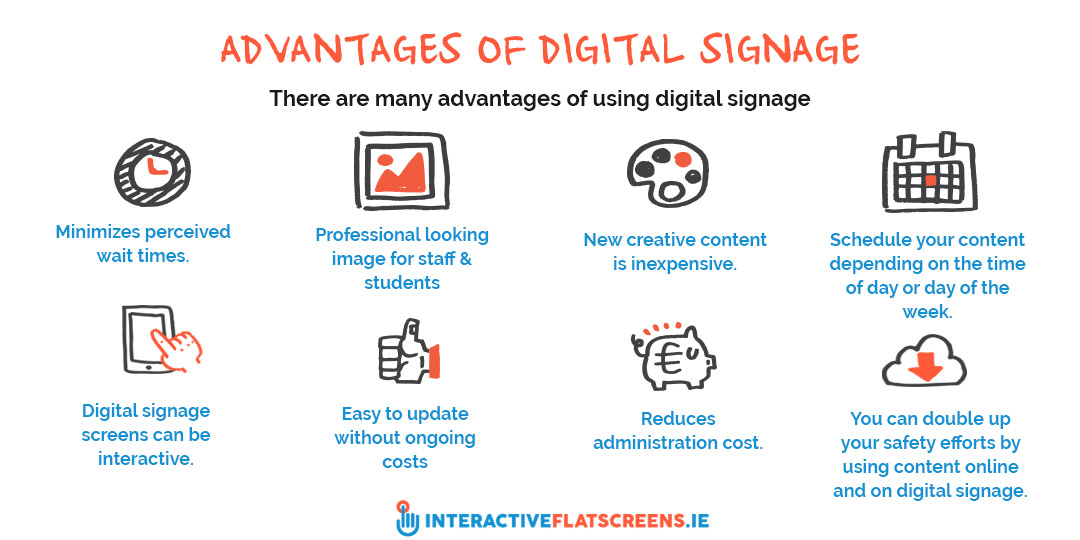 Advantages of Digital Signage
There are many advantages of using digital signage
Minimizes perceived wait times.
Professional looking image for staff & students
New creative content is inexpensive.
Schedule your content depending on the time of day or day of the week.
Digital signage screens can be interactive.
You can double up your safety efforts by using content online and on digital signage.
Easy to update without ongoing costs
Reduces administration cost.
Digital signage lets you leverage the power of video content.
Digital Screens for Better Results
The older signs we're used to like banners, stickers, posters, pop-ups and floor stands are all made of material that will hold on to viral microbes. If they're cleaned to the standard of killing the virus then the material will fade and rip easily. With digital screens you don't have that worry. Slowly schools are moving more towards digital screens with much better results financially as no more materials need ordered for new campaigns, slogans, events, or vital information like social distancing rules or if your site requires face masks at all times. No need to hurry and order these various posters, signs and stickers when you can instantly change the message on every screen around your school.
Communicating in a Digital Age
In all walks of life, we see digital signage. They're now regularly seen at bus stops, supermarkets, shop windows, train stations. In this digital age people can take in a vast amount of information in seconds. The ease and lack of effort it takes to change content in seconds is a massive plus for this form of content delivery. With that in mind we have various options available to meet all kinds of needs.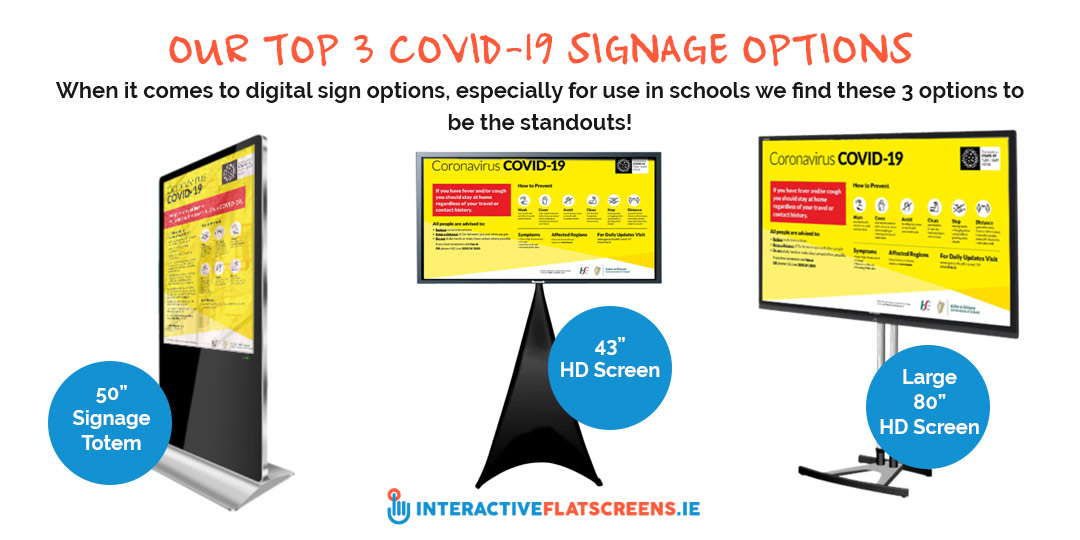 Our Top 3 COVID-19 Signage Options
When it comes to digital sign options, especially for use in schools we find these 3 options to be the standouts!
1. 50" Signage Totem                     
2. 43" HD Screen                         
3. Large 80" HD Screen
At www.interactiveflatscreens.ie we provide a service for all types of digital signage screens.  We can provide screens from 39" up to 80" and in both landscape and portrait formats. We sell 4K Interactive screens and we can provide media players, DSA cloud digital signage players or simple plug in USB solutions. You can also just plug a laptop into the screen to display your content. We can display the same content to any quantity of screens.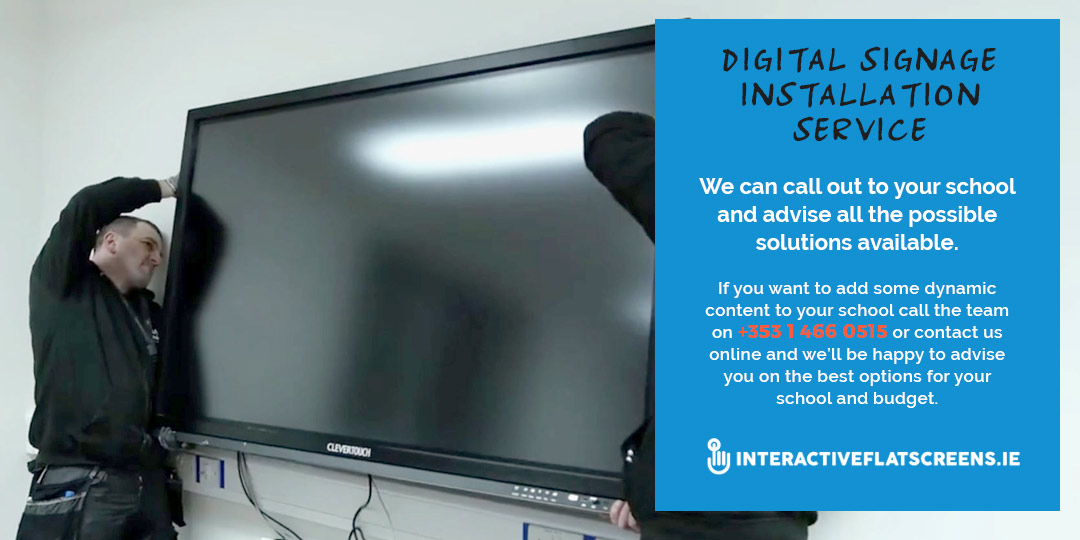 Digital Signage Installation Service
We can call out to your school and advise all the possible solutions available. If you want to add some dynamic content to your school call the team on +353 1 4660515 or contact us online and we'll be happy to advise you on the best options for your school and budget.
Why Select Clevertouch?
CLEVERTOUCH are Interactive Touchscreen Displays for Education. Clevertouch Interactive Touchscreens are changing the way we educate our pupils a durable alternative to interactive Whiteboards and Projector solutions.

CLEVERTOUCH offers innovative features such as (optional) built in PCs and a built in App store that is focused on education.

CLEVERTOUCH offers a FIVE YEAR WARRANTY on its screens.

CLEVERTOUCH comes with a variety of education Softwares (Cleverlynx, Displaynote, Snowflake, Clevermaths and Clevernote). All Sofwares are easy to use and are child and teacher friendly!

CLEVERTOUCH is very competitive in price.