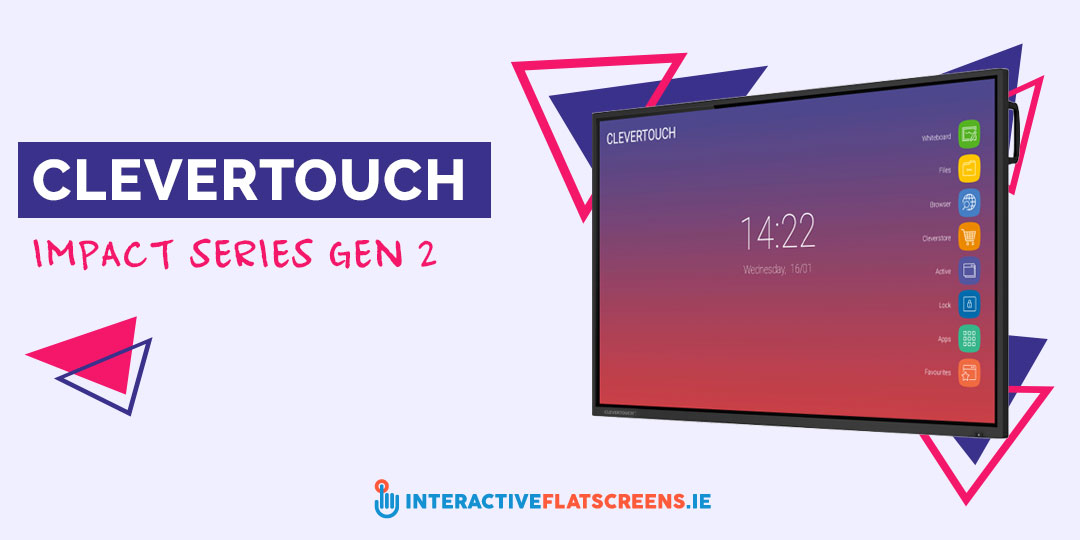 Clevertouch Impact Series Gen 2
Aug 18, 2021
By Interactive Flat Screens
As a new school year approaches we're delighted to showcase a brand new iteration of the Clevertouch Impact series, the Gen 2. Packed full of new features and upgrades now is the time to take advantage of those quiet times in your classrooms to upgrade your teaching setup with award winning interactive flat screens. Here we'd like to highlight some of the features of the Clevertouch Impact Gen 2 interactive flat screens but also the specific new features in the Gen 2 range.
Clevertouch Impact Gen 2 Range
The Clevertouch Impact Gen 2 range, which includes the Plus series, come in native 4K options with screens sizes ranging from 65", 75" and 86" in both models and an extra size (55") available in the Plus range. The standard Gen 2 screens come with improved 3GB of RAM and 32GB of storage whereas the Plus range has double, featuring 6GB of RAM and 64GB of storage. Both ranges also come with the new Android 9 4K chipset. Front mounted speakers allow for a much clearer lessons. Another new feature are the front mounted USB ports. A USB-C port which will charge your device as well as a side mounted USB-C port. There are also 4 USB-A ports for your connectivity needs.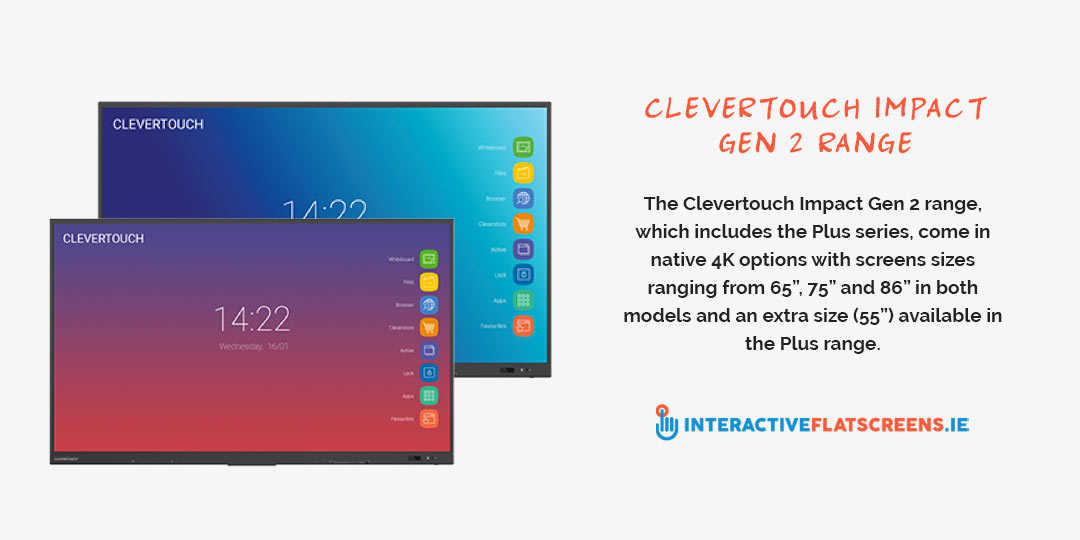 Clevertouch Gen 2 Features
With a raft of other features such as NFC pen trays which allows teachers to auto log in by placing their fob in the tray. This enables the teachers saved settings to automatically load onto whichever interactive Clevertouch flat screen they use, saving time on setting up each screen individually. Another great feature in the Clevertouch Impact range is the MDM Remote Management software which allows upgrades, updates, troubleshooting to be done remotely by your ICT department. Clevertouch Training is also offered for all of our Clevertouch panels.
Fully Customisable & Connect With Up To 50 Devices
Each interactive flat scree can also have customisable home screens to suit the school messaging/logo or it can be catered to each classroom. Connectivity also includes support through Airplay, Googlecast and Miracast to give the widest array of options as well as the opportunity to connect up to 50 devices but with built in teacher controls. The Cloud service also offers distance learning through the LYNX Whiteboard app. Students can be sent their work direct from the Clevertouch Impact panel by their teacher.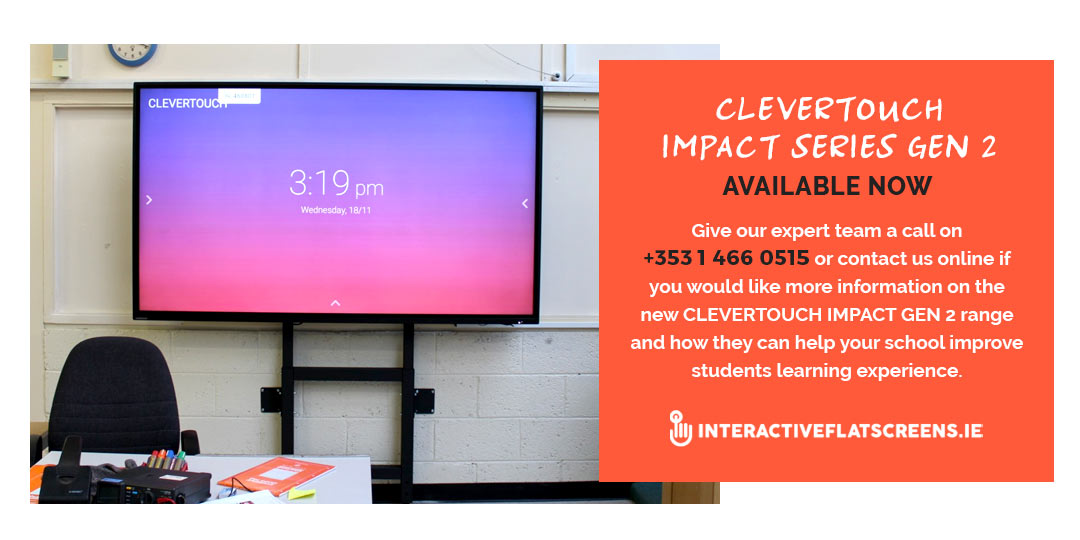 Clevertouch Impact Series Gen 2 – Available Now
Give our expert team a call on +353 1 4660515 or contact us online if you would like more information on the new Clevertouch Impact Gen 2 range and how they can help your school improve students learning experience.
Why Select Clevertouch?
CLEVERTOUCH are Interactive Touchscreen Displays for Education. Clevertouch Interactive Touchscreens are changing the way we educate our pupils a durable alternative to interactive Whiteboards and Projector solutions.

CLEVERTOUCH offers innovative features such as (optional) built in PCs and a built in App store that is focused on education.

CLEVERTOUCH offers a FIVE YEAR WARRANTY on its screens.

CLEVERTOUCH comes with a variety of education Softwares (Cleverlynx, Displaynote, Snowflake, Clevermaths and Clevernote). All Sofwares are easy to use and are child and teacher friendly!

CLEVERTOUCH is very competitive in price.