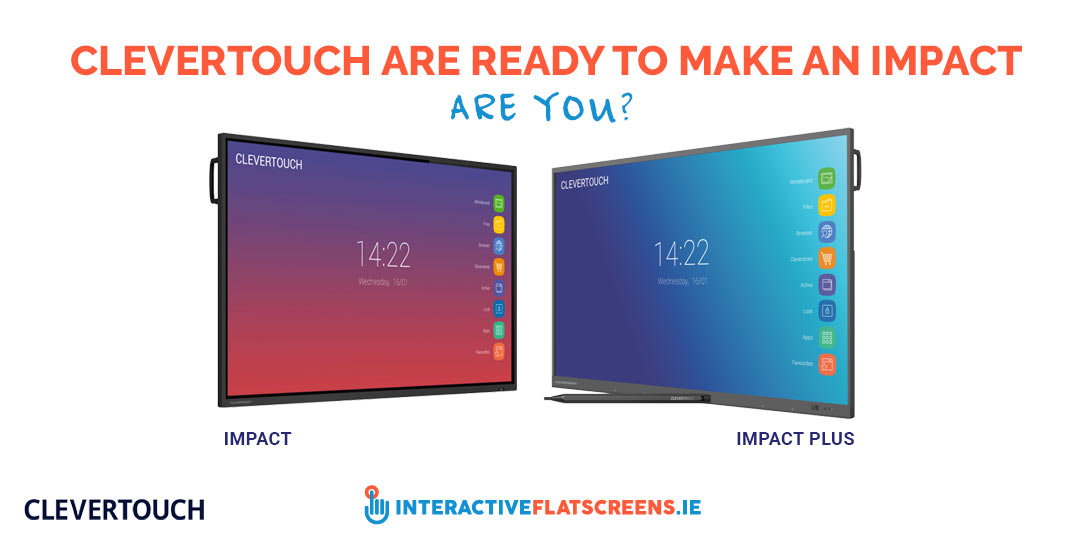 Clevertouch Are Ready to Make an Impact, Are You?
Nov 03, 2020
By Interactive Flat Screens
Clevertouch have announced their Plus and V series flatscreens are coming to the end of their lifecycle. Rather than resting on their laurels Clevertouch have made improvements on their already award winning interactive flatscreens with the launch of their new Impact and Impact Plus series.
Game Changing Mobile Device Management System
With the addition of the new MDM system it allows remote control of multiple screens, your IT office won't have to attend multiple areas in the building enabling your school to remain safe during these uncertain times. The person in control can add files, policies, APK's, shut down multiple screens, update them, push messages to any or all screens allowing for a uniform announcement or safety measures to be broadcast to all screens. The new LUX8 user interface will be a seamless transition from previous models. The new models come in varying sizes from 55"-86". All with 4K resolution. Available on the Impact range is a USB-C connection. With the Plus range you get an extra USB-C which can charge your device too. Updates can be done automatically with the new OAU system. A really cool new feature is the environmentally friendly motion detection system. Which will turn on when someone enters the room. Allowing quicker access.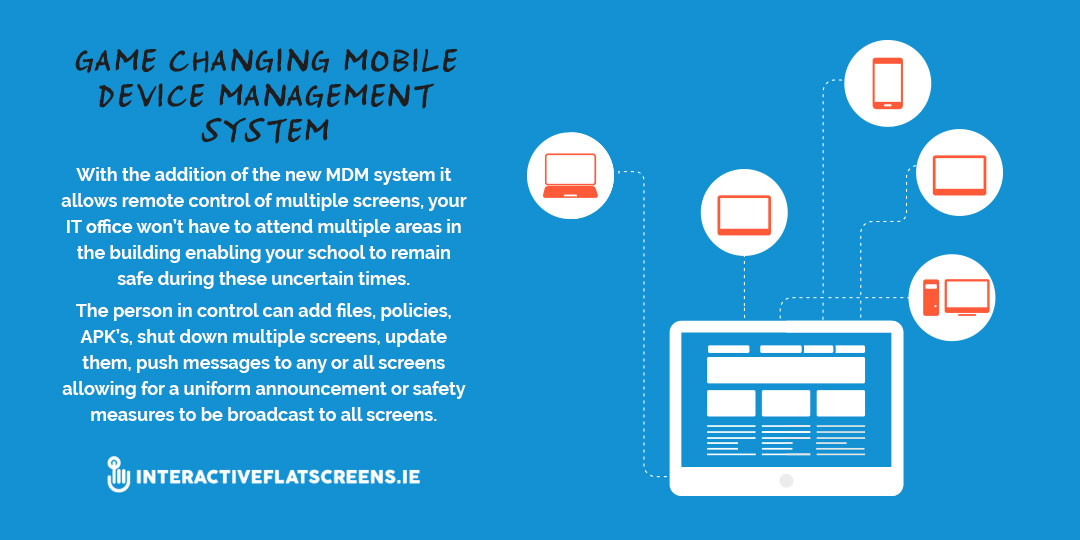 The Impact of Interactive Learning
"Research indicates increasing interactions during class between faculty and students and among students increases their achievement in the class and retention. Based on the literature reviewed and our own experience over the last few years, we came to the conclusion that the impact of interactive learning has been underestimated and educators should revisit this valuable method of teaching and learning." Cited in 'Impact of Interactive Learning on Knowledge Retention' which is the research of Mohamed Ibrahim, Osama Al-Shara.
A Balanced Pedagogical Approach
This pedagogical approach ensures a balancing of the scales for those in the less fortunate socioeconomic parts of society. With all students given the same learning conditions it allows them to flourish and gain in confidence. This in turn improves class participation and an overall sense of camaraderie amongst students. The fun element of an interactive flatscreen has also shown to increase confidence levels.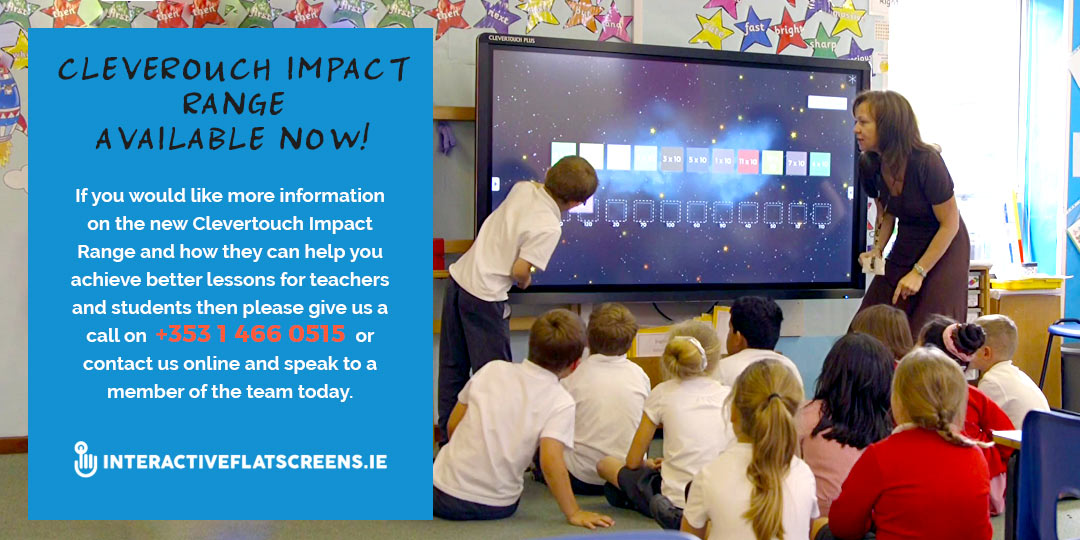 Cleverouch Impact Range – Available Now!
If you would like more information on the new Clevertouch Impact Range and how they can help you achieve better lessons for teachers and students then please give us a call on +353 1 4660515 or contact us online and speak to a member of the team today.
Why Select Clevertouch?
CLEVERTOUCH are Interactive Touchscreen Displays for Education. Clevertouch Interactive Touchscreens are changing the way we educate our pupils a durable alternative to interactive Whiteboards and Projector solutions.

CLEVERTOUCH offers innovative features such as (optional) built in PCs and a built in App store that is focused on education.

CLEVERTOUCH offers a FIVE YEAR WARRANTY on its screens.

CLEVERTOUCH comes with a variety of education Softwares (Cleverlynx, Displaynote, Snowflake, Clevermaths and Clevernote). All Sofwares are easy to use and are child and teacher friendly!

CLEVERTOUCH is very competitive in price.