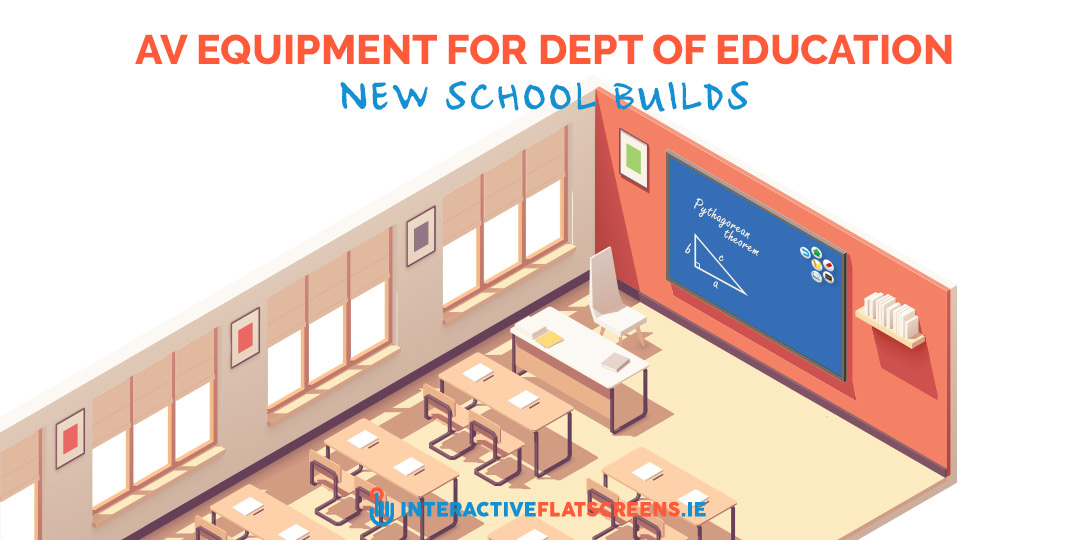 AV Equipment for Dept of Education New School Builds
Oct 21, 2019
By Interactive Flat Screens
Our parent company, Toomey AV is the leading provider of AV equipment for Dept. of Education new school builds and extensions. Building and electrical contractors are awarded contracts and they then turn to us for excellent AV consultancy, knowing that our team will deliver on performance, specification and budget. Our experience and knowledge of interactive flat screens is also a key element in what makes us one of the top AV consultancy firms for schools.
The Interactive Flat Screen is Becoming Essential for New School Builds
With its rapidly growing popularity, the interactive flat screen is fast becoming an essential for new school builds and extensions. We foresee a time when the touch screen will be almost mandatory for all school building programmes. This AV powerhouse is best installed early, when the school is being constructed, so that it is integrated properly. We give schools a head start, by providing them with this revolutionary technology at the outset of the school's existence.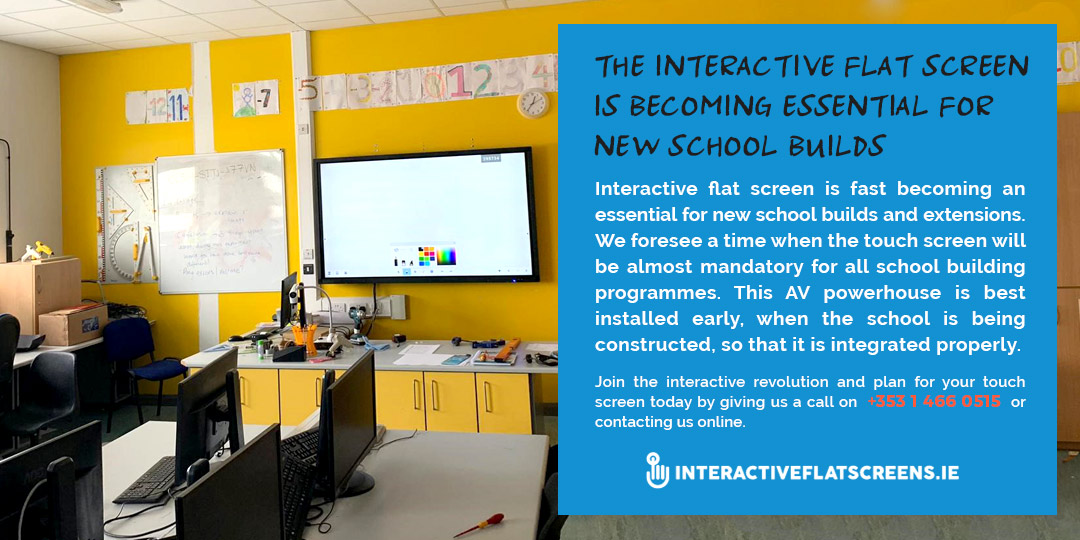 AV Fully Integrated Into Your School
The interactive touch panel is incredibly easy and intuitive to use but it is not so easy to install. We will have it working safe and sound and fully integrated into your school in time for your very first wave of students. One of the factors that must be taken into consideration is the substantial weight of the screen – safety is an issue so it is best to let us get in there and install the panel to the highest standards, so you can be confident that it isn't going to take a fall.
The Interactive Panel is the Future
Your school and your students deserve the best start you can give them, and this means investing in one or more of our interactive flat screens right off the bat. You may not be the biggest fan of this technology. You might be a little afraid of it and what it represents but you can't resist the future and the interactive panel is certainly the future. Embrace this machine from the outset by integrating it into your school building programme so you can get the best installation possible. We promise to do our utmost to ensure that the screen is fitted for life, so there won't be any issues or concerns down the line. As for the performance of the screen, you only have to read all the other articles in this blog to see how confident we are in this. The interactive flat screen is designed and made to last a long, long time.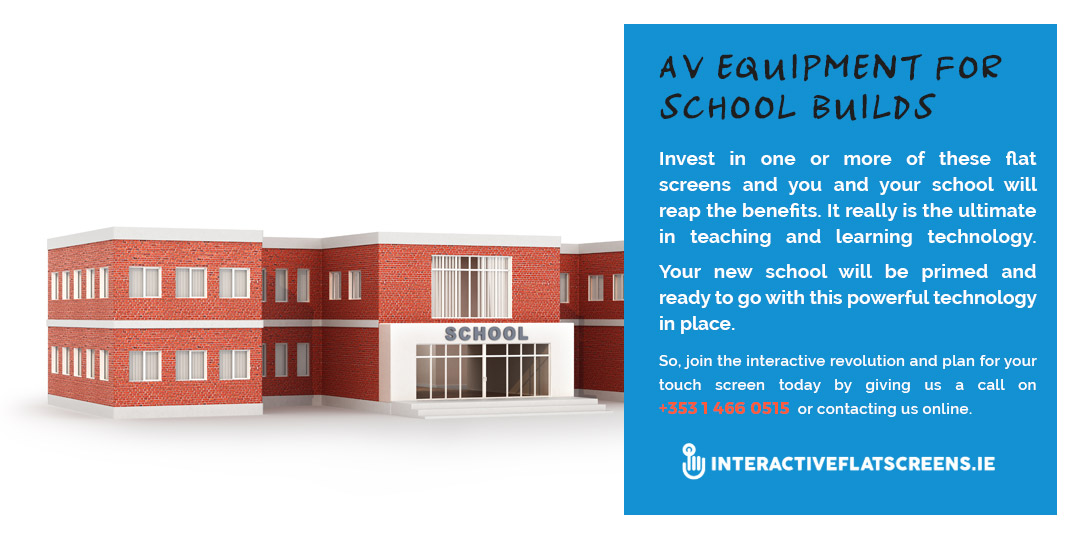 AV Equipment for Schools
Invest in one or more of these flat screens and you and your school will reap the benefits. It really is the ultimate in teaching and learning technology. Your new school will be primed and ready to go with this powerful technology in place. So, join the interactive revolution and plan for your touch screen today by giving us a call on +353 1 4660515 or contacting us online.
Don't miss out on future blog posts and be in with a chance to win a €100 voucher by joining our mailing list now!
Why Select Clevertouch?
CLEVERTOUCH are Interactive Touchscreen Displays for Education. Clevertouch Interactive Touchscreens are changing the way we educate our pupils a durable alternative to interactive Whiteboards and Projector solutions.

CLEVERTOUCH offers innovative features such as (optional) built in PCs and a built in App store that is focused on education.

CLEVERTOUCH offers a FIVE YEAR WARRANTY on its screens.

CLEVERTOUCH comes with a variety of education Softwares (Cleverlynx, Displaynote, Snowflake, Clevermaths and Clevernote). All Sofwares are easy to use and are child and teacher friendly!

CLEVERTOUCH is very competitive in price.