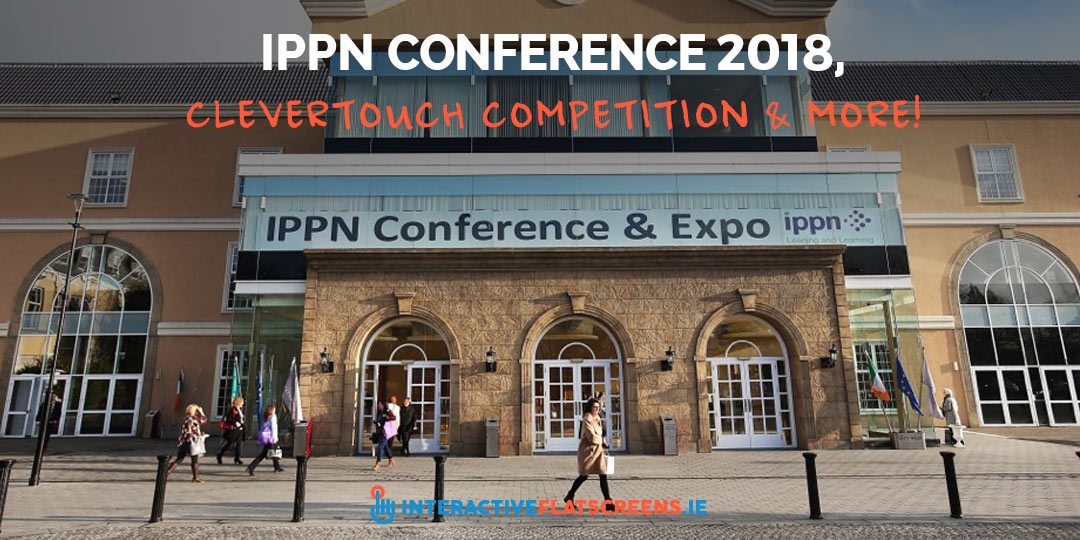 IPPN Conference 2018, Clevertouch Competition & More!
Jan 22, 2018
By Interactive Flat Screens
IPPN Conference 2018
2018 is set to be a good year for Toomey AV. We are celebrating our 50th year in this business and the demand for our products continues to grow. Particularly, our Clevertouch Interactive Flat Screens are proving to be very popular. With these things in mind we are delighted and proud to announce that we will be attending the IPPN 2018 Principals' Conference and Expo at the Citywest Hotel, Saggart, Co. Dublin on the 25th and 26th of January this year – sure we're there nearly every year!
Clevertouch V-Series 4k & Plus Range at the IPPN 2018
At this expo, you'll be able to check out our superb Clevertouch V-series 4K and PLUS IFS range. These machines are paragons of intuitive design and engineering. They will completely change the classroom dynamic by allowing increased sharing and collaboration. Teaching and learning has just become so much more fun! A huge range of Clevertouch apps can be downloaded for use with the built-in Android platform. You can find these apps at the Clevertouch App Store.
50th Anniversary Clevertouch Competitions!
To mark our 50th anniversary, we are running not one but two competitions! If you are around, come see us at our stand (K7) at the expo and you could win an iPad by entering our passport giveaway competition. Or enter our grand anniversary competition and you could win a Clevertouch 4K interactive touch screen worth €4000. Five Real Kast wireless devices are also up for grabs for the runners up. Winner will be announced on April 27th.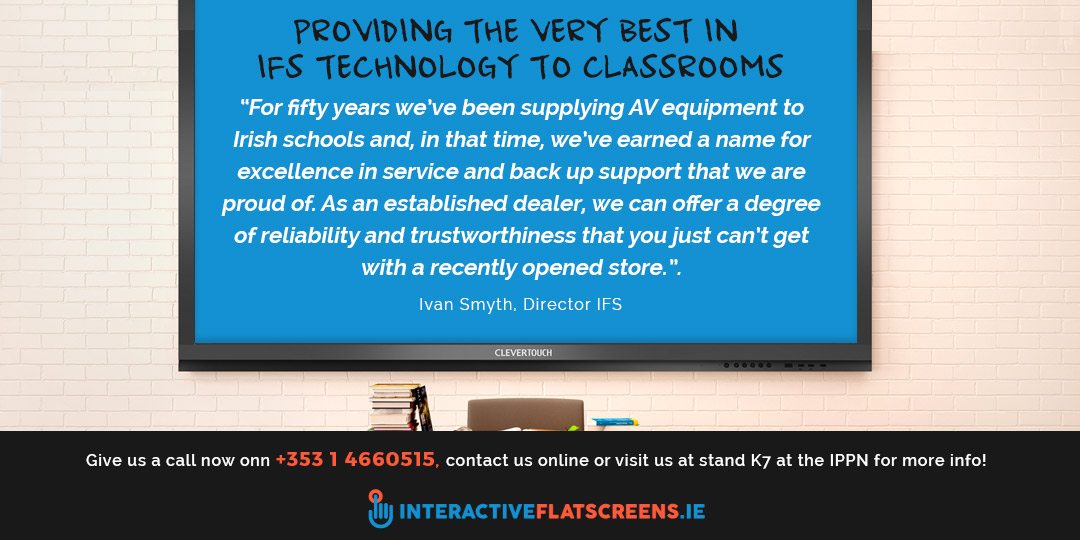 Providing The Very Best in IFS Technology to Classrooms
For fifty years we've been supplying AV equipment to Irish schools and, in that time, we've earned a name for excellence in service and back up support that we are proud of. As an established dealer, we can offer a degree of reliability and trustworthiness that you just can't get with a recently opened store. We have a dedicated team of expert demonstrators, installers, technicians and trainers who deliver AV solutions to learning environments across Ireland. We've partnered with Clevertouch to provide the very best IFS technology to classrooms, with guaranteed five years hassle free use.
Interested? Why not give us a call on +353 1 4660515 or contact us online for more info! And, if you are around, don't forget to pop by our stand at the IPPN Expo and check out our 65" V-series 4K and 70" HD PLUS deals!
Why Select Clevertouch?
CLEVERTOUCH are Interactive Touchscreen Displays for Education. Clevertouch Interactive Touchscreens are changing the way we educate our pupils a durable alternative to interactive Whiteboards and Projector solutions.

CLEVERTOUCH offers innovative features such as (optional) built in PCs and a built in App store that is focused on education.

CLEVERTOUCH offers a FIVE YEAR WARRANTY on its screens.

CLEVERTOUCH comes with a variety of education Softwares (Cleverlynx, Displaynote, Snowflake, Clevermaths and Clevernote). All Sofwares are easy to use and are child and teacher friendly!

CLEVERTOUCH is very competitive in price.